Nyko Charger Grip Lite
SCORE: 91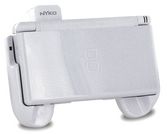 I have to admit I did not think a lot of the Nyko Charger Grip Lite upon initial inspection. The mistake was mine, and thankfully I took my time reviewing this particular product. Not only does this little unit give the player a better grip of the Nintendo DS, it also can be used to charge the machine. Talk about having multiple uses. Nyko also made transferring the Nintendo DS in and out a real cinch.
The Nyko Charger Grip Lite we received at Family Friendly Gaming for review was white, and looks perfect with the white Nintendo DS. I tried it with the black Nintendo DS, and the look did not bother me. The ergonomic design looks as good as it feels. The instructions on the unit, and that come with the Nyko Charger Grip Lite have a nice offsetting color display so they will stand out.
It took me a few minutes to get used to the feel of the Nyko Charger Grip Lite. I was really concerned about this, because I have grown so accustom to how the Nintendo DS feels. The rounded edges on this little unit feel good. I had to do a little feeling (editor: or looking) to find where the stylus is housed. Inserting or removing the GBA and Nintendo DS cartridges is not hampered by this unit either.
The eight hours of additional charge that the Nyko Charger Grip Lite provides a Nintendo DS gamer is a welcome feature indeed. The construction of this unit is very sturdy and should last for a nice length of time. We have had no problems with ours for the weeks we have been reviewing it. There was some real intelligent design behind the Nyko Charger Grip Lite, and spending some time with it will confirm that truth.
With all of the places I bring my Nintendo DS an additional way to charge it is very useful. If you are someone who may be in long car trips, plane trips, or other places where a recharge may not be readily available; then I suggest you check out the Nyko Charger Grip Lite. We found no family issues with this unit.
- Paul
Graphics: 88%
Sound: 90%
Replay/Extras: 94%
Gameplay: 93%
Family Friendly Factor: 91%
System: Nintendo DS
Publisher: Nyko
Rating: 'NR' for Not Rated


Want more info on this product,
or the company that made this product?
Set web browser to:
Link

Got a question, comment,
or a concern regarding this
review?
Email them to:
pbury@familyfriendlygaming.com