Nintendo Wii Charge Station
SCORE: 94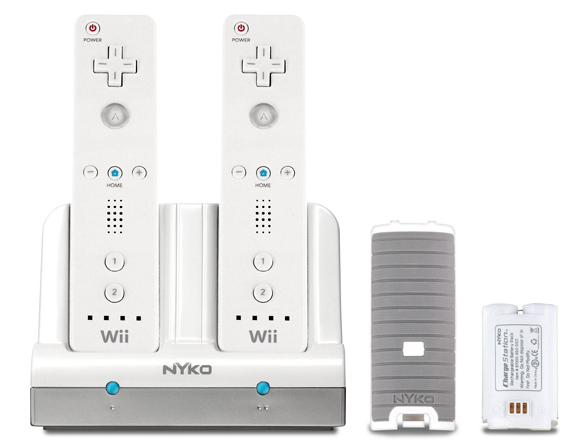 There are quite a few peripherals for our favorite video game systems. Family Friendly Gaming is going to cover some in a way to assist you in which ones are smart buys, and which ones to stay away from. The first piece of hardware we are reviewing is the Nintendo Wii Charge Station from Nyko. This little machine is just what the doctor ordered for those of us who are going through batteries like they are water.
I have always been a fan of efficiency, which is one of the reasons I was never a fan of the original Xbox. The Nintendo Wii Charge Station is the model of efficiency. This sleek little unit has a grip bottom, enough room for two Wii Remotes to charge, and LED lights to give the status of the charge. The power cord is almost as large as the entire main unit. That means this little charge station can fit almost anywhere and not take up the entire counter space.
How does it feel you may be asking? Well like sturdy plastic. The medal conductors for the charging are sturdy, as is the rest of the unit. The grip bottom is coarse enough to hold the unit steady on all counter top surfaces Family Friendly Gaming tried it out on. The Wii Remotes go on the machine easily, and stay in place until removed. The grip pad on the bottom of the Wii Remotes are an improvement to an already brilliantly designed controller.
The technology for charge stations, and their batteries has steadily improved since their inception. The instructions claim up to two hours to charge one Wii Remote, and double that for two at the same time. We found that to be on the conservative side, and the charge lasted as long as normal batteries. In the long run this little charge station will save you money, and I find it to be very useful.
Since this deals with electricity you will want to keep little children away from it. I plugged it in, and touched the leads with no shock to me. Nyko obviously puts safety above speed, and that is nice to see. Batteries present a choking hazard, and this little unit takes away that hazard. If you are one of the millions of Nintendo Wii owners, this is one slick little unit that you should check out.
- Paul
Graphics: 96%
Sound: 90%
Replay/Extras: 91%
Gameplay: 98%
Family Friendly Factor: 95%
System: Wii
Publisher: Nyko
Rating: 'NR' for Not Rated


Want more info on this product,
or the company that made this product?
Set web browser to:
Link

Got a question, comment,
or a concern regarding this
review?
Email them to:
pbury@familyfriendlygaming.com