Madden 07
SCORE: 85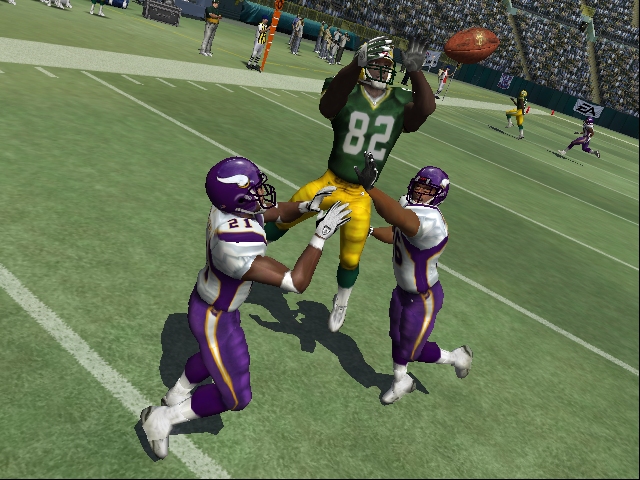 I have enjoyed sports video games for decades. I was a basketball player when I was younger, but have always had an appreciation for football. I really hate to see a player get hurt on the field. Electronic Arts has done an amazing job with Madden NFL 07. It is simply amazing to me that in 1989 the first John Madden football was released. Electronic Arts has released at least one Madden Football video game every single year since that time. Few video game franchises come close to the longevity, or the consistency of this franchise. EA Sports may be the king of video game football, but they are not resting on their laurels. New this year is Lead Blocker Controls, player specific running styles, jukes, cutbacks, and power moves. The franchise mode also has some nice new additions, online play, and connectivity to the PSP (PS2 version only). Xbox, and Gamecube owners will have many of the same features.
Electronic Arts has made some very nice graphical improvements to Madden NFL 07, especially in the crowd close ups. This is most noticeable in replays, and after touchdowns. The colors are very bright and colorful. The stadiums look exactly like their counterparts (at least the ones I have been to). The players look proportionally different, which is important because a lineman, and a kicker are definitely different sizes. Wholesome images are used properly, and the game punishes poor sportsmanship with penalties. In most cases the game takes away control so a late hit is not possible. Two knocks on the graphics department: first the absence of intro videos to games, and secondly the lack of prayer being shown by the players.
The sounds in Madden NFL 07 are pretty crisp, and clear. This game sounds just like a football game, and the adjust ability factor is very high. The sounds on the football field work really well. The music is another story. The music is certainly not my taste, and some of the songs bothered me. This is where the adjustability comes into play - any song (or all) can be turned off. The game also includes the music from the stadium if that is your preference. The commentators are usually accurate, but I did notice a few times their comments about the previous play did not make sense.
Madden NFL 07 has an amazing amount of replay in it. There are so many different modes in here that this one game could be all you need to play for months. If you are looking for a game where you want to get your money's worth, then look no further than this one. People can play one another in the same room, or using the very handy online feature.
The improvements EA Sports made to the kicking game are the most natural for kicking I have ever played. The rest of the controls are planned well, and work well. Madden NFL 07 is a lot of fun to play.
Sports games earn their 'E' for Everyone rating, and Electronic Arts does a good job of making sure to keep it safe for the family. I am recommending this game to my pastor, friends, and all of you reading this. Madden NFL 07 promotes family time, thinking about different strategies, and is safe for the entire family. The hitting in the game is never beyond what is seen in the sport, and that is a really good thing. It was my pleasure to play, and review this game. I would like a sequel, and am confident that Electronic Arts will provide.
-Frank
Graphics: 88%
Sound: 77%
Replay/Extras: 87%
Gameplay: 95%
Family Friendly Factor: 82%
System: Gamecube/Playstation 2/Xbox
Publisher: Electronic Arts
Rating: 'E' for Everyone

Want more info on this product,
or the company that made this product?
Set web browser to:
Link

Got a question, comment,
or a concern regarding this
review?
Email them to:
GameReviews@familyfriendlygaming.com