Harvest Moon Magical Melody
SCORE: 66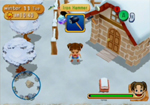 Harvest Moon is one of the biggest franchises to date. It's no wonder, either. This game is fun, fast and easy to learn. Harvest Moon: Magical Melody for your Nintendo Gamecube brings you the Harvest Moon magic that made it famous back when it launched on the Gameboy. In case you did not know, the main objective of Harvest Moon is to build your own life. Traditionally, when you start a game, your Grandfather passes away and he wants you (the player) to take the farm. However, this time is not the case. You start off as a young man (Or woman) traveling to a new town to begin a wonderful life. The point all Harvest Moon games is to farm, fish, and sell crops. On this version (which this reviewer LOVES) while you do those objectives, you get to choose your priority. Your priority can differ, you can have three different ways of a life style. You can farm, fish, and be a miner. While these have been done on the past Harvest Moon games, this one is a little different. Depending on how much of your priority gets done, the better the economy gets. You choose a Marriage partner, which depending on which gender you pick, will become opposite of you. The Harvest Goddess has turned to stone, and needs your help! Collect Music Notes by working hard and doing favors for the towns folk. People in this game worship a "Harvest Goddess". Blasphemy aside, it can easily be ignored. I am afraid this is a bad characteristic of the Harvest Moon trilogy. I must deduct points.

The graphics of HM:MM bring you a nice "Cel-shaded" style that can be compared to the Legend of Zelda: The Wind Waker. The environments are beautiful and detailed, and the characters have a cartoonish look and feel to the game. Animations such as seed planting and cow brushing are highly detailed, and weather effects are wonderful. This truly brings the game to life! No offensive images were made. Perfect for our young players.

The sounds in Harvest Moon are wonderful and bouncy. The music changes from season to season, and the sound effects are detailed. The music has a "welcome" feel to it, and keeps you going all day. When you meet or greet a person, their happy voices say "Hello". The river is streaming, the leaves are blowing and the rain is falling. This is a very detailed experience that is realistic, enjoyable, and fun. While I can't tell you how you may like the music (because everyone has an opinion) but this is safe and exciting for young players, and can be enjoyed by the whole family. All wholesome sounds, no offensive ones.

With over 29 types of seeds, and many unlockable ones, fishing, mining, and farming with all the animals, there is much to do. You also expand your farming empire by purchasing land, upgrading your house, barn and furniture. Marriage partners is another vital key. You have a child, make friends with towns people, collect Notes, and participate in festivals. It sounds like a lot, but the game lets you go at your own pace. There is a lot of fun to be had in this game. If Harvest Moon would follow Animal crossing, the games would be completed. A basic reading ability is needed to enjoy the game, so make sure your children can read properly. This game, however, can be a good practice for them, since sentences are not to complicated. You can find this game in most stores. In this writer's opinion, this is a must buy for the hard core HM fans. The price is only about $20.00, so it is an easy pick up.
- Classictyler
Graphics: 70%
Sound: 75%
Replay/Extras: 70%
Gameplay: 60%
Family Friendly Factor: 55%
System: Gamecube
Publisher: Natsume
Rating: 'E' for Everyone

Want more info on this product,
or the company that made this product?
Set web browser to:
Link

Got a question, comment,
or a concern regarding this
review?
Email them to:
ClassicTyler@familyfriendlygaming.com