Dora the Explorer Superstar Adventures
SCORE: 89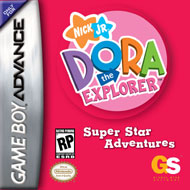 Most children know and love Dora the Explorer. She is a Nick Jr. television show (also can be found on VHS, and DVD) that teaches children different things. She is known for teaching children memory skills as each of her adventures takes place in three areas. Her trusty sidekick is a monkey named Boots (who also happens to wear boots). Swiper is a fox who is always trying to steal things, and being told not to be Dora. Dora the Explorer is also known for teaching children some rudimentary Spanish speaking skills. How useful this is to your kids later in life is debatable, and we at Family Friendly Gaming will not be going into that. It is worth mentioning though in case such things bother you. Dora the Explorer Super Star Adventures on the Gameboy Advance (can also be played on the Gameboy Player on a Nintendo Gamecube, and on the Nintendo DS) revolves all around these cartoony magical stars. It seems they are playing hide and go seek, and it is up to Dora to find them. They are found through a series of mini games. The game does not go into an explanation as to why Dora is chasing these stars, and then why the stars are avoiding her. This game is targeted towards children, so that may be why such things were left out.
Graphically Dora the Explorer Super Star Adventures is bright and colorful. The details are pretty simplistic, although everything in the game is easily identifiable. One really strange thing about the graphics is Dora and Boots are always looking at the screen. This looks weird when they are walking up a steep hill, and not paying attention to where they are going. Wholesome images are used properly in this kids game.
The music in Dora the Explorer Super Star Adventures certainly reminds of the television show. In fact there are also a few sound bytes from Dora used in the game in various parts. The music is generally cheerful, upbeat, and happy. It really feels like they could have, and should have included more sounds in the game, but this is a Gameboy Advance game after all.
Each of the stars in this game have three mini games associated with them. This gives kids quite a few different mini games to be played. It would have been nice if Global Star Software would have included some unlockable materials to give a replay incentive. Only one player can play this game at a time. Kid Gamer was able to find this game at a really good price at a Toys R Us (editor: 10.00 US Dollars), so it is worth your hours of slaving at work to invest in for your children.
The mini games all control really well, and the design of the controls works just right. Bear in mind the Gameboy Advance does not have a lot of buttons so the gameplay will reflect that. Some of the mini games felt a little long, and only had the player pressing one button. Multiple stars can be collected in different mini games, but the number collected have no impact on the game. Which makes the Kid Gamer wonder what the point of collecting all of them is. Kids will have fun with this game, unless they get bored with the mini games.
Dora the Explorer Super Star Adventures is safe for the entire family, has some good lessons in it, and was a very good first attempt by Global Star Software. There needs to be more games like this one to help improve children's education level. It was my joy to play this game.
- Kid Gamer
Graphics: 84%
Sound: 91%
Replay/Extras: 87%
Gameplay: 91%
Family Friendly Factor: 94%
System: Gameboy Advance
Publisher: Global Star Software
Rating: 'E' for Everyone

Want more info on this product,
or the company that made this product?
Set web browser to:
Link

Got a question, comment,
or a concern regarding this
review?
Email them to:
GameReviews@familyfriendlygaming.com