Bomberman Jetters
SCORE: 72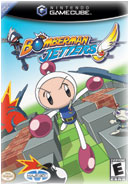 Bomberman Jetters (Bomberman Jetterz in Japan) is based off the popular anime cartoon in Japan. The cartoon was actually good in this reviewers opinion. However, the game is a different story. If you have played Bomberman Generation, you have played this. Same action, level style, and acting. It seems to be a watered-down version of the explosive Gamecube hit. When Mujoe creates an artificial comet to crush Planet Bomber, it's up to White Bomber (Bomberman) to save the day. While this is based off the cartoon, what they do not mention is Bomberman is looking for his brother - Mighty, who went missing for 6 months. This is part of the cartoon's story, which is not mentioned in the game once. Hudson and Majesco bring you a game where you don't even know the full story. You won't even notice how bad the story is, because the voice acting is terrible. Bomberman Jetters brings you a lack-luster story mode, but still delivers on multiplayer. This is the strong point of the game, which is a shame because it is smaller than most multiplayer Bomberman games. What is interesting, is it was published and produced the SAME year as Bomberman Generation. You get the Bomberman idea. Get the objective, go from point A to point B by solving puzzles and using bombs.

The graphics of Jetters is comparable to Generation's beautiful performance. The models are look good, but levels looked a little rushed out, and the enemies are something that looks like they came out of the Dreamcast era. The environments flow, the model movements could have used a little work, but this is Gamecube acceptable. There is a nice touch with the bombs. Depending on which bomb attribute you have, say like the Aqua Bomb, water flows inside it. A great thing about this, though, is there were no offensive images made.

The sounds in this game are another saving characteristic. The music flows easily, making it enjoyable to listen to, sound effects are nice with bomb explosions and environment sounds. The voice acting is terrible. This reviewer is sorry to be harsh, but it is true. The music changes every 3rd level. That is nice, since the music can get stuck in your head. Multiplayer music is also very well mastered. The music keep the player energized, and frantic. No offensive sounds were made.

Multiplayer has always been the best part of Bomberman. This stays the same, except it feels smaller than most games. On this in installment, you get 4 modes, which is small compared to the 5-6 modes that are usually in a game. It seems they spent more time on the characters you can play, by the way, has all the characters on the game. Multiplayer is fun, while players can still have clean explosive fun. No offensive gestures were made.

Don't get me wrong. This is NOT a terrible game, it just seems like it was rushed. The first time through can be fun, but the novelty of the game wears thin quick. There are side quests which consist of finding "Jetters", "Lightning" and "Hige-Hige" cards. Even with these, you feel pretty empty playing it. This writer admits, for the $15 price, it can be worth it. The game even has surprises for you. If you are a hardcore Bomberman fan like this reviewer is, get it. However, if you are new to the series, start with something better. This game is available at Amazon.com and Ebay, or can be found at you game store. It's too bad really. If they had followed the real cartoon, it could have been an excellent game. This game saves at the end of every level, which makes no worries of addiction.
- ClassicTyler
Graphics: 74%
Sound: 78%
Replay/Extras: 65%
Gameplay: 70%
Family Friendly Factor: 75%
System: Gamecube
Publisher: Majesco Entertainment
Rating: 'E' for Everyone
{Mild Cartoon Violence}

Want more info on this product,
or the company that made this product?
Set web browser to:
Link

Got a question, comment,
or a concern regarding this
review?
Email them to:
ClassicTyler@familyfriendlygaming.com