Babar to the Rescue
SCORE: 90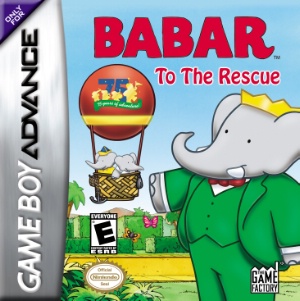 Babar: To The Rescue is a nice little kids game for those age six and up. This Gameboy Advance game comes from American Game Factory, the brilliant minds who have been publishing quite a few great kids games. There are balloon rides where the player controls the balloon. There are side scrolling levels where jumping, swinging (on vines), and walking are required. Finally there are vehicle levels where the player goes from start to finish avoiding obstacles. All three of these kinds of levels have crowns that Babar needs to collect, as a certain number must be collected before a level can be exited. This game coincides with the 75 years celebration of Babar - the elephant king. The story line is about Babar saving his children.

The three kinds of gameplay split the graphics in three different ways. The side scrolling action adventure levels feature excellent graphics with really nice sized models. The balloon rides have much smaller graphics, but larger game play fields. The vehicles are somewhere in the middle of the two. The graphics are very bright and colorful in almost every level. The artwork is the classic Babar (which has been a well known children's book series for 75 years now). Wholesome images are used properly in Babar: To the Rescue. One thing to bear in mind is this is a Gameboy Advance game as well.

The sounds are crisp, clear, and they work amazingly well in this game. The music is quite cheerful, but not quite to the level of being hummable. At times in the vehicle levels the peeling out of the vehicle seemed over used to this reviewer.

Babar: To The Rescue has nine worlds with three levels in each world; which brings the count up to twenty-seven levels. For a kids game this is quite a bit of gameplay. Players can replay a level after beating it to try and get all of the crowns. Other than that there is not a lot of replay. Four different players can have separate game saves so it can be fun for more than one person. In this reviewers humble opinion this game is worth the money.

Generally the controls are responsive. The side scrolling levels are where Babar is directly controlled, and he is an elephant. He controls better than one would think an elephant would control. I did notice an occasional problem in the vehicle levels. There are certain spots where the player can get stuck near the ramps. Thankfully though getting stuck is not permanent, as the vehicles go both forward and backwards. The control design works well, and this is a fun game to play. The level design is set up in such a way that it is always clear where the player needs to go next.

It is so nice to have a father being shown in a really good light. Babar rushes off to save his children when they are in danger. The whole game is about him saving them. Many will find parallels with that to how God feels about us. Babar: To The Rescue has absolutely no violence in it whatsoever. If an enemy bumps into Babar, the player loses points. If Babar falls into the ocean, he just resents back on land. That means that the game keeps the player in it, and it also leads to very little frustration. This is the kind of game that I would recommend to my pastor. Babar: To The Rescue is safe for the entire family. It was a joy to play, and review this game. There needs to be some sequels to this game. It is nice that companies like American Game Factory are out there releasing games like this. This is one of those safe, and fun games that a lot of parents are looking for (for their children). It is just shy of our seal of approval, but still worth a look.
- Paul
Graphics: 90%
Sound: 87%
Replay/Extras: 90%
Gameplay: 89%
Family Friendly Factor: 96%
System: Gameboy Advance
Publisher: The Game Factory
Rating: 'E' for Everyone

Want more info on this product,
or the company that made this product?
Set web browser to:
Link

Got a question, comment,
or a concern regarding this
review?
Email them to:
pbury@familyfriendlygaming.com