VeggieTales Larryboy and the Bad Apple
SCORE: 94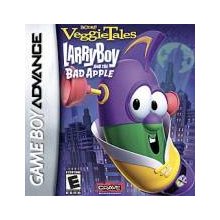 The phenom that is Veggie Tales has finally made it into the hand held video game department of console games. Big Idea has done a wonderful job with the LarryBoy and the Bad Apple DVD (which is a complete, and total must buy). In case you have been living under a rock, and have no idea what Veggie Tales is, let me explain. Veggie Tales is an entire cartoon world where the characters are different veggietables. Some include Bob the Tomato, Larry the Cucumber, and Junior Asparagus. The television (DVD/VHS) shows, and movies teach all ages wonderful lessons about how to properly treat yourself, and others. Crave Entertainment has been making video game history with their release of The BIBLE Game last year, and now Veggie Tales on the Gameboy Advance (note: PS2 version is coming soon). Bumblyburg is in danger from a bad apple that tries to tempt its citizens. This video game version of that story is a nice companion to the DVD following the same super hero. The world needs a hero, and Larryboy says: "I AM THAT HERO!" Can you help LarryBoy be that hero?

Graphically LarryBoy and the Bad Apple is amazingly bright and colorful. Some worlds are psychedelic. It was not to the point of hurting this reviewers eyes, but certainly kept me awake. Even though this is on the small screen, all of the characters look really good, and move exactly as they do in the cartoon series. Wholesome images are also used properly in this game. There are no offensive images.

The sounds are completely crisp and clear. I had to take the cartridge out and look at it, because there were so many silly songs included on this wee little cartridge. They sounded just like the silly songs from the television shows, except they were instrumentals. The theme song from the DVD - Rock on Larryboy is also included. The music brought quite the smile to my face, and will be an added bonus to the millions who are familiar with the Veggie Tales series. Those silly songs are one of the most recognizable traits, especially when chatting with people on the Internet about Veggie Tales. This is one area where Crave Entertainment certainly splurged.

LarryBoy and the Bad Apple includes thirty-five levels that can be played on three settings. Different difficulty settings mainly adjust the time limit to beat a level. At $19.99 this is a game that is worth the price of admission. A master game could beat this in two to three hours on the easiest setting. My one complaint about this game, is I wish it was longer.

This is a completely non-violent game. LarryBoy does not have a health bar. There is a time limit, and different enemies cause different status changes to LarryBoy. This is a rather fascinating little innovation in gameplay coming from Crave Entertainment. In fact it was not until halfway through the game that I even realized there was no health bar. The controls are perfect, and the level designs are pure genius.

It is a blast to play LarryBoy and the Bad Apple. It is nice to review a game that is safe, wholesome, and has a good lesson in it. The lesson in fighting temptation is never preachy, and that means it will apply to a broader market, and silence critics of Christian video games. This game is safe for the entire family, and was a my pure pleasure to play and review. There needs to be some serious sequels to this game, with more extras, and even more levels. In my humble opinion, you need to get this awesome game. Rock On LarryBoy!
- Paul
Graphics: 94%
Sound: 97%
Replay/Extras: 81%
Gameplay: 99%
Family Friendly Factor: 100%
System: Gameboy Advance
Publisher: Crave Entertainment
Rating: 'E' for Everyone

Want more info on this product,
or the company that made this product?
Set web browser to:
Link

Got a question, comment,
or a concern regarding this
review?
Email them to:
pbury@familyfriendlygaming.com