Family Friendly Gaming Hall of Fame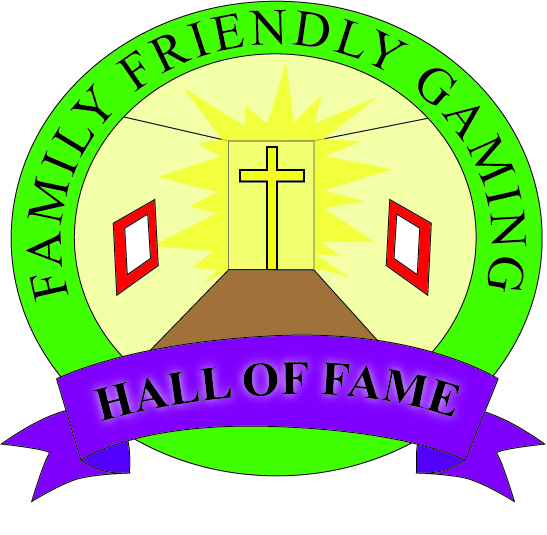 Since 1998 those of involved with Family Friendly Gaming have been promoting good games for families. We have been involved in the industry for decades. We are constantly honoring good games for families. The Holy Bible has been the set in stone standards we have applied to the definitions we use. Covering these games in a wide variety of forms has been the order of the day for these games. We wanted to do something additional, and special for some of the best of the best. Yes we have a rarely given seal of approval.

What about something else though? Some companies and some franchises deserve a lifetime achievement award. Which is usually given when that lifetime is over with. In video games a franchise can come back. Companies can come back. So after much prayer, fasting, and earnestly seeking God's will we have an exciting announcement. Welcome to the Family Friendly Gaming Hall of Fame. Here are the in year of our Lord 2021 inductees. Each inductee will receive a plaque to commemorate their status of as a Family Friendly Gaming Hall of Famer.

Patricia Bury - Family Friendly Gaming

The first matriarch into the creation of Family Friendly Gaming is finally getting her place in these hallowed halls. Her wisdom, teaching, and guidance has been instrumental to everyone associated and affiliated with Family Friendly Gaming. Her knowledge on natural remedies, spiritual development, gardening and cooking allows all of us to live better lives. She never sought the spotlight through good and bad in life. Instead she lived out what true servanthood is all about. She has earned his place in the FFG Hall of Fame.

NFL 2K - 2K Sport

There used to be competition in football video games. Fanboys of different franchises would argue about which franchise was better. There was a lot to enjoy in the NFL 2K video games. Family Friendly Gaming has been making videos and live streams of these games to much fanfare. These football games were amazing on so many levels. It is a shame a contract between EA Sports and the NFL ended this franchise. NFL 2K is one of those older sports titles families can continue to enjoy. NFL 2K earns its way into the FFG Hall of Fame.

Tecmo Bowl - Tecmo

Retro gamers know Tecmo Bowl quite well. We played Tecmo Bowl as kids and teenagers. There was something so special about each of the Tecmo Bowl video games we played. The franchise showed amazing resiliency over the years. The solid football action with unique screen layout made Tecmo Bowl a game that stuck in the minds of gamers for decades. Many families played Tecmo Bowl together locally. Dropping the quarterback a long ways for an extremely long throw was common place in Tecmo Bowl. Tecmo Bowl scores its way into the FFG Hall of Fame.

Civilization - Sid Meiers

Few games have as much replay value as the Civilization video games. Picking a leader from the past and building your civilization from stone age all the way to space age is what makes Civilization so much fun for families. Civilization also lets gamers win the game a variety of different ways. These games let us win with conquest, trading, or just making the most amazing civilization. This long lasting franchise continues to this very day. Civilization makes gamers think strategically from start to finish. Civilization belongs in the FFG Hall of Fame.

Rush Limbaugh - EIB Network

There are a variety of people that influence us over the years. It can be easily said that Rush Limbaugh is one of the major influencers that is partially responsible for the creation and existence of Family Friendly Gaming. The way he brought together so many people with his love, humor, insight, and service is an example to all of us. He made mistakes, and had struggles in his life. Rush Limbaugh faced each of them with honor and distinction. Rush Limbaugh talks his way into the FFG Hall of Fame.

Sonic - Sega

Sonic the Hedgehog taught us to go fast in video games. Sonic has reached families through video games, comics, animation, clothing and more. Sonic the Hedgehog has been an ambassador to families on the good, clean, and fun video games. Sonic frees animals that are trapped inside robotic bodies. Every time he attacks he is saving a poor woodland creature. At Family Friendly Gaming we embrace freeing people from the sinful traps that keep them from their potential and true love. Sonic spins his way into the FFG Hall of Fame.