ATV Offroad Fury Pro
SCORE: 73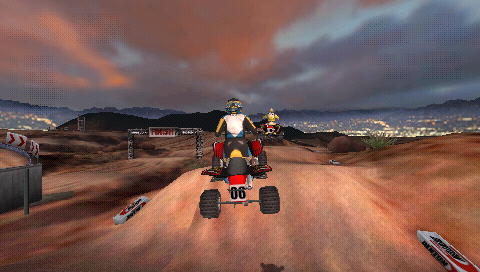 ATV Offroad Fury Pro on the Sony Playstation Portable reminds me a whole lot of the traditional Excite Bike 8-bit NES classic. Sony Computer Entertainment America has done a very good job capturing that old school feel. This game can get the adrenalin pumping especially with all of the high flying action, and tricks that can be performed during that big air. The different vehicles, and racing styles makes this game very fascinating indeed. Wifi is also available on this hand held title. SCEA lets the player really tear up this supercross style races with ATV's, MX bikes, buggies, and trophy trucks across sixty-four new tracks. Sony also included connectivity from this Sony PSP game to the Playstation 2 ATV Offroad Fury 4. The core of this game is racing action, and bring the first across the finish line after the laps are done.

Graphically ATV Offroad Fury Pro has some very nice details. Some of the race tracks have some nice colorful graphics, but most of them are pretty bland. The majority of the race tracks are on dirt, or mud. The color of dirt, and mud are of the darker variety. The player can easily crash, and get knocked off certain vehicles. Thankfully the game does not dwell on the human body skidding down the track. Some of the background graphics are awesome. The effects with the sun, and sky in many of the levels are artistic beyond belief.

The sounds in ATV Offroad Fury Pro are a mixed bag. The music in this game is actually something I found to be extremely annoying. Sony was wise enough to allow the player to turn this troubling music off. The sounds of the vehicles are totally, and completely awesome. The reving of the engines, and tearing through the dirt tracks adds to the racing action.

There are tons of vehicles, tracks, and other items to unearth in ATV Offroad Fury Pro. The cards included is a nice touch, and the connections to the PS2 are pretty neat. The WiFi option to play people from all over adds months of game play to the players who tear through this game.

It can take a little while to figure out the controls in ATV Offroad Fury Pro. Turning tight corners can be difficult, even with tapping the 'R' button. I did run into a weird instance where the game gave me three seconds to get back on the track, and even though I was in the middle of the track the game acted like I had not gotten back on the track. The designs of the tracks are spectacular. I found this game to be a lot of fun to play, although five laps is a little long for me.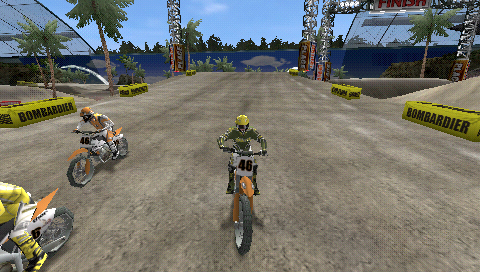 ATV Offroad Fury Pro teaches quick reflexes, and fast memorization of the tracks layout. Taking chances in the air can seriously teach the player to be more careful, and take less chances. The lyrics to the music was bothersome, and brought the game experience down. Some better customization on that would really help this series. The minor control issues also need tweaked on any sequels. A decent game that falls short in a few areas.
- Paul
Graphics: 76%
Sound: 60%
Replay/Extras: 82%
Gameplay: 79%
Family Friendly Factor: 69%
System: Playstation Portable
Publisher: Sony
ESRB Rating: 'E' for Everyone
{Mild Lyrics}

Want more info on this product,
or the company that made this product?
Set web browser to:
Link

Got a question, comment,
or a concern regarding this
review?
Email them to:
pbury@familyfriendlygaming.com