MLB 17 The Show
SCORE: 73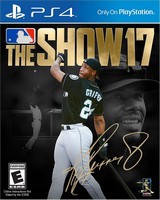 The Show continues its decline to the form of near free fall. MLB 17 The Show is overpriced with messed up controls. We now get all kinds of sliders to set the controls. It would be nice if MLB 17 The Show did not change them on the fly. Hit too many home runs and this game adjusts. Then you keep fouling things off. Then it changes again to lots of home runs. Back and forth we went.
MLB 17 The Show also must decide who will win games. One player takes a triple A team, and dominates a pro team even though the two of them are equal in skill. Retro mode is close to the RBI Baseball franchise. Which means lots of ball movement while it is in the air. A cheap way to strike out the other player. MLB 17 The Show continues too many online game play modes that are never used by Family Friendly Gaming.
MLB 17 The Show looks nice, sounds good, and has good presentation. I do not like the new controls, or the new single player pitching view. I noticed the pitchers have trouble getting the ball where you tell them to place it. Foul animations are re-used way too many times in games. The people in the stands and dugout look good. MLB 17 The Show can be fun for short bursts of time.
MLB 17 The Show includes Road to the Show, Diamond Dynasty, Franchise, Play Now, My Locker, Mini Modes, Game Rooms, Leaderboards, Roster Update, Vault, Game History, Announcements, Media Data Utility, User Settings, Create & Edit Player, Game Controls, Roster Control, Sounds of the Show, and Credits & Movies. The obnoxious music can be turned off one song at a time.
The default pitching controls are all about timing with some throbbing circle. It never made sense to me, and just made me angry. I eventually ignored it before I found I could go away from this horrible idea. I value MLB 17 The Show at twenty dollars brand new. Right now it is over priced.
- Frank
Graphics: 85%
Sounds: 75%
Replay/Extras: 75%
Gameplay: 60%
Family Friendly Factor: 70%

System: Playstation 4
Publisher: Sony Computer Entertainment
Developer: Sony San Diego Studio
Rating: 'E' - Everyone SIX and OLDER ONLY

Want more info on this product, the company that made this product?
Set web browser to:
Link


Got a question, comment, or a concern regarding this review?
Email them to:
GameReviews@familyfriendlygaming.com

Do you appreciate Reviews like this one? Have you ever considered helping Family Friendly Gaming? For more information click here.