Xenoblade Chronicles 3D
SCORE: 42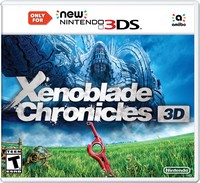 It was my honor to play and review Xenoblade Chronicles 3D on the Nintendo 3DS. Family Friendly Gaming stepped up to the plate and purchased this game. Once a Nintendo 3DS XL was also purchased this Wii port could be played. What was the Wii game that was ported? It was Xenoblade Chronicles. Xenoblade Chronicles 3D is an action adventure role playing game with all kinds of religious content.
I might as well get this out of the way. Two titans that are called gods fight it out. Players spend their time on parts of these creatures bodies. SPOILER ALERT! Another creature that is shown as a god is trying to reshape the world in his image. The humans destroy and defeat this false god to become god themselves. In the end the main character decides the world will have no god and thus shows his support for atheism. Xenoblade Chronicles 3D is an attack on God, Jews, and Christians.
Xenoblade Chronicles 3D contains plenty of violence, enticement to lust, lack of attire, blood, bad language, nudity, and more. I am surprised this game was not rated seventeen and older only. There is certainly enough content in it for that rating. The ESRB is slacking again. With all of the hate speech against God and Christians it is also surprising Xenoblade Chronicles 3D was given the thirteen and older rating.
The battle system in Xenoblade Chronicles 3D is sluggish and slow. We run up to a creature and press the 'R' button to initiate a possible attack. We then select attack and watch the action unfold. We can also hit certain skills to launch specific attacks. We then have to wait for those attacks to load back up. Battling in Xenoblade Chronicles 3D is boring beyond belief.
The graphics are very dated and ugly looking. The music in Xenoblade Chronicles 3D is acceptable. I guess the processing power is why the Nintendo 3DS XL was needed. Because that one button for a camera made me feel like it should have been on the regular 3DS. Expect to grind a lot in Xenoblade Chronicles 3D. Also certain battles can only be beaten if certain things are done in the right order.
- RPG Master
Graphics: 30%
Sound: 50%
Replay/Extras: 70%
Gameplay: 30%
Family Friendly Factor: 30%

System: Nintendo 3DS XL
Publisher: Nintendo
Developer: Monolith Software
Rating: 'T' - THIRTEEN and OLDER ONLY {Blood, Mild Language, Partial Nudity, Use of Alcohol and Tobacco, Violence}

Want more info on this product, the company that made this product?
Set web browser to:
Link


Got a question, comment, or a concern regarding this review?
Email them to:
GameReviews@familyfriendlygaming.com