Tokyo Mirage Sessions #FE
SCORE: 50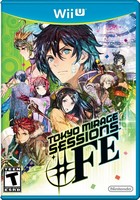 I am thankful Family Friendly Gaming purchased a copy of Tokyo Mirage Sessions #FE. Nintendo's PR and Marketing failed us completely. This game is developed by Atlus. One of our least favorite developers of all time. Tokyo Mirage Sessions #FE takes Shin Megami Tensei and sort of merges it with Fire Emblem. A seventeen and older franchise mixed with a thirteen and older franchise. Can you guess which rating the ESRB gave this game? Yup the lower one. Even though there is plenty of much older content in this home console video game.
Tokyo Mirage Sessions #FE has violence, enticement to lust, bad language, alcohol, false idols, false gods, ghosts, spirits, demons, reincarnation, and more. The voices do not match the words on the screen. Atlus was too lazy to hire English voice actors. So we listen to the people prattle on in Japanese and read what is going on in this generic story.
Grinding is required in Tokyo Mirage Sessions #FE. After defeating the right number of certain kinds of monsters then the characters can get new weapons and learn new magic. The souls of the monsters is what powers this. We do not know which ones we need to earn these weapons and magical skills. Mirages are entering the human world. These mirages look like demons in many cases. Others are characters from Fire Emblem games. They possess humans to control them.
The battles in Tokyo Mirage Sessions #FE are turn based. I found out early on that grinding was needed to survive in this Wii U game. Side quests are also helpful to get your characters more powerful. Be sure to work on them in the intermissions between chapters. There is a prologue and then six chapters in Tokyo Mirage Sessions #FE. Due to the grinding the game play time is inflated. I price Tokyo Mirage Sessions #FE at twenty dollars brand new. If you want to expose yourself to so much offensive content and characters.
- RPG Master
Graphics: 40%
Sound: 40%
Replay: 70%
Gameplay: 60%
Family Friendly Factor: 40%

System: Wii U
Publisher: Nintendo
Developer: Atlus
Rating: 'T' - THIRTEEN AND OLDER ONLY {Fantasy Violence, Language, Suggestive Themes, Use of Alcohol}

Want more info on this product, the company that made this product?
Set web browser to:
Link


Got a question, comment, or a concern regarding this review?
Email them to:
GameReviews@familyfriendlygaming.com