Star Fox Zero
SCORE: 53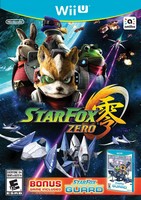 Star Fox Zero is the worst Star Fox video game I have ever played. This space shooter that also has some Robotech transformations in it (and lets us move around on the ground) has the worst controls of a game I have played in years. We look at the TV screen to fly around, and then look at the Wii U Gamepad to shoot things. The gyroscope is clunky at best. I crashed into things because I was looking at the other screen way too often.
Star Fox Zero has violence in it. We shoot and blow up all kinds of different things. Many of them are robots. Others have creature in them. They have to die out there in space yah know? Especially after I blew up their ship. To be fair they are trying to conquer the universe or galaxy or whatever it is we are defending. I noticed some Star Trek like stars in certain parts of Star Fox Zero.
Since Star Fox Zero is so short expect the difficulty to be cranked up there. The five hour main story has to be beaten before multiplayer is available. How lame is that? Especially for a frustrating game that is easy to die in. I am thankful Family Friendly Gaming purchased a copy of Star Fox Zero so all ya'll can avoid it. Do not buy this game.
Star Fox Zero comes with Star Fox Guard which carries on the watch two different screens at once horrible game play mechanic. I was able to play Star Fox Guard with a spotter. They told me what camera to swap to on the Wii U Gamepad, and then I looked at the TV screen to blast some robot trying to get into my base. Star Fox Guard is sort of a tower defense game. We just can't build new defenses. The robot frog that picks up drops is pretty cool. Way better than Slippy.
Star Fox Zero gave me a headache. No wonder the price of Star Fox Zero plummeted so quickly. Star Fox Zero is more of a failure than the PR and Marketing for Nintendo is. That is saying a lot if you know what I mean.
- Sam
Graphics: 55%
Sound: 60%
Replay/Extras: 70%
Gameplay: 20%
Family Friendly Factor: 60%

System: Wii U
Publisher: Nintendo
Developer: Platinum Games, Nintendo EPD
Rating: 'E10+' - Everyone TEN and OLDER ONLY {Fantasy Violence}

Want more info on this product, the company that made this product?
Set web browser to:
Link


Got a question, comment, or a concern regarding this review?
Email them to:
GameReviews@familyfriendlygaming.com