Sledge Hammer The Complete Series
SCORE: 71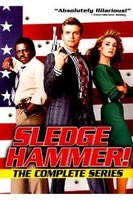 I am so thankful I received Sledge Hammer The Complete Series on DVD as a Christmas present. I am so far behind on gifts that it took me close to four months to finally get to this show. I am glad I started watching it because Sledge Hammer The Complete Series is hilarious. Our family laughed multiple times in each episode. Some episodes were so funny we were nearly crying from laughing so much.
I want families to realize there are things in Sledge Hammer The Complete Series that could bother them. This is a police show satire. The main character(Sledge Hammer) is rude, crude, crash, commits police brutality, is sexist about women, does not like computers, insults people, attacks marriage, and more. There is a lack of attire in some episodes. I do like how Sledge Hammer calls them degenerates, and writes tickets for indecent exposure.
If you are a politically correct person you will most likely hate Sledge Hammer The Complete Series. He does plenty of things that the far left, extreme radicals can not stand. I understand they are humorless which is probably why they would dislike this show from the late eighties. Even they will have to admit the music in this show is really good, and the whole talking to your .44 Magnum bit is interesting.
It took me seventeen hours to watch all of Sledge Hammer The Complete Series. At the end I wanted more of the show. This is a television show that needs to come back. There is no blood, little violence, and no bad language. He called criminals things like mutants, and slime balls. Nothing like the highly offensive television shows in this century. I wish there were more shows like Sledge Hammer on the air today.
It is a shame Sledge Hammer The Complete Series contains only two seasons. This show was cut down way before its prime. Which is shame. I value Sledge Hammer The Complete Series at twenty dollars brand new. Harrison Page and Anne-Marie Martin did an awesome job in Sledge Hammer The Complete Series. So did the shouting captain character.
- Paul
Graphics: 60%
Sound: 70%
Replay: 85%
Gameplay: 80%
Family Friendly Factor: 60%

System: DVD
Publisher: Image Entertainment
Developer: Lakeshore Entertainment
Rating: 'NR' - Not Rated

Want more info on this product, the company that made this product?
Set web browser to:
Link

Make a Purchase - Link

Got a question, comment, or a concern regarding this review?
Email them to:
pbury@familyfriendlygaming.com

Do you appreciate Reviews like this one? Have you ever considered helping Family Friendly Gaming? For more information click here.