Shift 2 Unleashed
SCORE: 66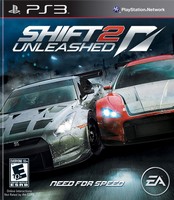 I agree with millions of ya'll when you say: "Family Friendly Gaming ROCKS!" Where was EA's PR and Marketing people when Shift 2 Unleashed was released? First time I heard about this game is when Family Friendly Gaming purchased it. It is astounding how much time, effort, and research is put into finding interesting games for families. Shift 2 Unleashed is way better than the Need for Speed video games.
The installation time in Shift 2 Unleashed is insanely long. Why can't we just play from disc? It would make this racing game better. There are violent car crashes in Shift 2 Unleashed. I wish we could skip some of these movies since they have no bearing on the game for me. There is enticement to lust, and music that may offend your family. I turned the music off because I found it to be obnoxious.
Shift 2 Unleashed pushes the online game play really hard. Families have to pay for it, which is why it keeps advertising it to us. Endless pit my man, endless pit. The graphics look okay in Shift 2 Unleashed. I was not impressed with it. I have seen these same tracks look better in other games. There is a wide range of difficulty settings. Sometimes they work and sometimes they get in the way.
Expect to grind in Shift 2 Unleashed a lot. You will start out in a new series severely under powered. Save up for a new car, or upgrade your current one. Both of those take money. Be careful though because you can upgrade your car beyond a race series and then can't use it on that series anymore. The controls start loose and get better with different cars, tires, etc.
I was disappointed with the low volume of race tracks, and the low volume of cars in Shift 2 Unleashed. I also did not like the manufactured replay of having to get enough money to get cars good enough for later areas. The payout for winning is too low in Shift 2 Unleashed. I also hating getting knocked off the track by other cars and then warned for skipping portions of the track. Mastering curves was pretty cool, as was leveling up.
- Frank
Graphics: 65%
Sound: 65%
Replay: 80%
Gameplay: 60%
Family Friendly Factor: 60%

System: PC/Xbox 360/PS3(tested)
Publisher: Electronic Arts
Developer: Slightly Mad Studios
Rating: 'E10+' - Everyone TEN and OLDER ONLY {Mild Suggestive Themes, Mild Violence}

Want more info on this product, the company that made this product?
Set web browser to:
Link


Got a question, comment, or a concern regarding this review?
Email them to:
GameReviews@familyfriendlygaming.com