Pokken Tournament
SCORE: 54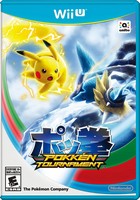 My mind is split and nearly undecided on Pokken Tournament. This Wii U fighting game has only fourteen different Pokemon in it. One of them is unlockable. There are fifteen total characters in Pokken Tournament since Pikachu has a mask on to make a second version of him. Why was that done instead of another Pokemon? Pokken Tournament feels like a Godzilla fighting game since these giant monsters are battling it out.
The music in Pokken Tournament is nice. Our helper is annoying though. The graphics look good. There is plenty of violence, psychics, ghosts, and also enticement to lust. Money earned from fights can be used to purchase attire that covers up better. The controls in Pokken Tournament can be confusing and are poorly designed. There is a real lack of balance in the Pokemon too.
Pokken Tournament is a short game if you take one character through the three leagues. First we fight League matches, then Tournaments, and finally a Promotion Test. There is also Free Battle if that interests you. Pokemon level up from fighting, and we can improve four different skills. They are Attack, Defense, Synergy, and Strategy. Pokken Tournament has single battles, practice, local battle, online battle, and the ferrum league. I spent most of my time in the ferrum league. I like how Pokken Tournament keeps track of our wins and losses.
I like how mega evolution was upgraded to Burst Mode in Pokken Tournament. This is great to see the religious belief of evolution not being pushed by this game. I learned that Pokken Tournament allows grabs to go right through blocks. Phase Shfiting in Pokken Tournament is interesting. We move from the 3D movement to a 2D plane lined up with our opponent.
The lack of characters in Pokken Tournament makes me put the value of this game at twenty dollars brand new.
- Teen Gamer
Graphics: 50%
Sound: 70%
Replay/Extras: 50%
Gameplay: 50%
Family Friendly Factor: 50%

System: Wii U
Publisher: Nintendo
Developer: Bandai Namco
Rating: 'E10+' - Everyone TEN and OLDER ONLY {Fantasy Violence}

Want more info on this product, the company that made this product?
Set web browser to:
Link


Got a question, comment, or a concern regarding this review?
Email them to:
GameReviews@familyfriendlygaming.com