One Piece Pirate Warriors 3
SCORE: 56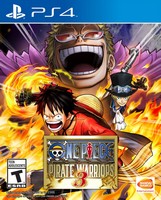 Family Friendly Gaming purchased a copy of One Piece Pirate Warriors 3 on the Playstation 4 for this review. The PR and Marketing people associated with this game failed to respond to requests for a reviewable copy. They probably did not want the public to hear our opinion on this Dynasty Warriors clone. One Piece Pirate Warriors 3 does contain some manga elements to it.
Expect to punch, kick, slash, and use special attacks on thousands of the same looking characters. Japanese voices are in One Piece Pirate Warriors 3 as well. Which makes this translation seem sloppy. Can't they give us more than just words to read? I do like the local multiplayer in One Piece Pirate Warriors 3.
One Piece Pirate Warriors 3 contains the Adventure Log, Free Log, Dream Log, Online, Options and Gallery. There is violence, blood, enticement to lust, lack of attire, bad language, religious teachings in false gods, and false goddesses, devil fruit, and more. Beli growth is available, and there are coins to upgrade characters.
The missions in One Piece Pirate Warriors 3 get annoying really fast. I hate having to constantly back track to take care of some invading force coming from the opposite end of the map. One Piece Pirate Warriors 3 can be extremely repetitive. Kill so many guys and conquer an area. Beat the tougher and bigger enemy to conquer other areas. Boss fights are marginally more interesting. We actually have to avoid some attacks then.
Adventure Log in One Piece Pirate Warriors 3 is the main story mode. Free Log is playing any of the previously unlocked levels in a free mode. Dream Log is about island hopping and fighting other characters in the game. One Piece Pirate Warriors 3 likes to throw different things at the player to keep them on their toes. This might be the only thing that keeps gamers mentally engaged after digitally murdering thousands. One Piece Pirate Warriors 3 is worth ten to twenty dollars in my opinion. - Teen Gamer
Graphics: 50%
Sounds: 50%
Replay/Extras: 80%
Gameplay: 50%
Family Friendly Factor: 50%

System: PC/PS3/PS Vita/PS4(tested)
Publisher: Bandai Namco Entertainment
Developer: Koei Tecmo
Rating: 'T' - THIRTEEN and OLDER ONLY {Crude Humor, Mild Language, Suggestive Themes, Use of Tobacco}

Want more info on this product, the company that made this product?
Set web browser to:
Link


Got a question, comment, or a concern regarding this review?
Email them to:
GameReviews@familyfriendlygaming.com