MLB 16 The Show
SCORE: 75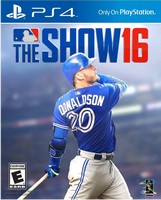 Sony continues to backslide with their baseball franchise. MLB 16 The Show is marginally different from last year. The challenge plays are rarely close enough to be overturned. The PR and Marketing for Sony has struck out for the second year in a row. There is no PS Vita version for MLB 16 The Show since Sony tried to go with the despised and dreaded digital download only version last year on the Vita. That's right there was no physical copy of the Vita version, and it killed the franchise. Whereas the physical copy had always done fine. Who is making decisions over at Sony?
The modes in MLB 16 The Show are Road to the Show (online, offline, continue from MLB 15 The Show), Diamond Dynasty (online), Franchise (online, offline), Play Now (online, offline), My Locker (online), Mini Modes, Home Run Derby (online, offline), Batting Practice (offline), Pitching Practice (offline), Post Season (offline), and Challenge of the Week (online).
There is also Game Rooms, Leaderboards, Roster Updates, Vaults, Game History, Announcements, and Media. All of those areas are online only. Which means Sony continues to make the wrong decision by neglecting the local offline modes. They are trying to push families into online game modes, and a large Internet usage plan to pay for it.
Families can create their own player in MLB 16 The Show. There are some songs in MLB 16 The Show that families will find offensive. They can be turned off one song at a time, or all of the lame music can be turned off in MLB 16 The Show. The announcers are generally accurate. At times I could tell different sound bytes were loading.
I value MLB 16 The Show around ten dollars. There are less modes for normal local play. MLB 16 The Show can also generate arguments in the real world. MLB 16 The Show feels like it has some kind of momentum engine. When things go wrong it can be difficult to turn it around and get back on track.
- Frank
Graphics: 80%
Sounds: 70%
Replay/Extras: 85%
Gameplay: 70%
Family Friendly Factor: 70%

System: PS3/PS4(tested)
Publisher: Sony Computer Entertainment
Developer: Sony San Diego Studio
Rating: 'E' - Everyone SIX and OLDER ONLY

Want more info on this product, the company that made this product?
Set web browser to:
Link


Got a question, comment, or a concern regarding this review?
Email them to:
GameReviews@familyfriendlygaming.com