J-Stars Victory VS+
SCORE: 56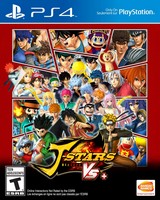 Since the PR and Marketing department for Bandai Namco Games failed us so horribly, I purchased a copy of J-Stars Victory VS+ on the Playstation 4. Maybe the PR and Marketing greed and corruption is to blame since Family Friendly Gaming does not promise to deliver a completely positive, make them more sales review. Those kinds of reviews has cost plenty of gaming sites credibility when the hype does not match the end product.
J-Stars Victory VS+ contains violence, blood, false gods, enticement to lust, lack of attire, demons and more. There are numerous anime characters in J-Stars Victory VS+ from a variety of franchises. Players pick two characters, and then one support character. There are fifty-two playable characters and fourteen support characters. In game currency is used to purchase most of the characters.
There are fourteen stages to fight in J-Stars Victory VS+. A few of the stages in J-Stars Victory VS+ contain traps that will hurt anyone that is in the vicinity. There is a local multiplayer mode where way too much of the screen is chopped off. The Japanese voices on all of these characters is annoying. I understand some never made it to the states, but it makes J-Stars Victory VS+ feel half done.
The single player experience in J-Stars Victory VS+ is about flying a ship through the different anime worlds to get money to unlock characters. It is how the different franchises in J-Stars Victory VS+ connect. The single player experience has good balance to it. Fighting in J-Stars Victory VS+ can get repetitive. Using your J-Burst can turn the tide of a battle if used at the right time.
Friendship is important in J-Stars Victory VS+. There are three levels of friendship in this fighting video game. The deeper the friendship the more powerful the J-Burst attacks. It is definitely worth it to work on the character's friendship. If you ever wondered if Kakarot would beat Naruto then J-Stars Victory VS+ may be the game for you. The small graphics and confusing controls means this game is not for everyone. Mainly for anime geeks.
- Teen Gamer
Graphics: 40%
Sounds: 50%
Replay/Extras: 80%
Gameplay: 60%
Family Friendly Factor: 50%

System: PS Vita/PS3/PS4(tested)
Publisher: Bandai Namco Games
Developer: Spike Chunsoft
Rating: 'T' - THIRTEEN and OLDER ONLY {Cartoon Violence, Crude Humor, Mild Language, Suggestive Themes}

Want more info on this product, the company that made this product?
Set web browser to:
Link


Got a question, comment, or a concern regarding this review?
Email them to:
GameReviews@familyfriendlygaming.com