Harvest Moon Skytree Village
SCORE: 59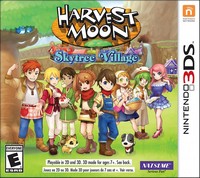 I am worried that Natsume is going to go out of business in America very soon. They continue to not listen. They continue to shove their religious agenda down the throats of families. The backlash is real. They continue to get away with bad content in their Harvest Moon games that the ESRB fails to report. The only thing Natsume has gotten right with the Harvest Moon games is to keep protecting Biblical marriage. The radicals on the far left continue to attack that with their hate speech and threats.
Harvest Moon Skytree Village shoves the religious belief of a goddess down our throats. We also have to deal with these magical sprite characters. They can help do things for you like water the plants. Sorry I am not lazy, I like to do chores myself. There are sexually suggestive themes as the harvest goddess is barely dressed. This is seen right from the beginning of the game. How did the ESRB miss the lack of attire?
The Minecraft nature of Harvest Moon Skytree Village continues. We have to do requests for the villagers to become friendly with them. These requests get us new tools, more land, and make the false goddess in Harvest Moon Skytree Village very happy. The extreme radical beliefs in Harvest Moon Skytree Village could be defined as part of the war on Christians.
There is a wizard and a witch in Harvest Moon Skytree Village. Farming is painful and slow. The same thing goes for raising animals. Crops do not die across seasons now. That is a nice improvement. The music is pleasant. I hated hearing how we all have to thank the harvest goddess over and over again. It made me sick and greatly offended. Something Family Friendly Gaming has told Natsume for years. Obviously that is why their sales are so bad for this series now.
The longer I played Harvest Moon Skytree Village the more I could do. I had to constantly do things for other people. Getting certain fish was really hard and annoying. In fact fishing is broken in Harvest Moon Skytree Village in my opinion. I could lose really expensive bait over and over again. Then I tried no bait and caught all kinds of fish. Harvest Moon Skytree Village is worth around five to ten dollars brand new in my opinion. Too much offensive content.
- Yolanda
Graphics: 50%
Sound: 70%
Replay: 75%
Gameplay: 60%
Family Friendly Factor: 40%

System: Nintendo 3DS
Publisher: Natsume
Developer: Natsume
Rating: 'E' - Everyone SIX and OLDER ONLY

Want more info on this product, the company that made this product?
Set web browser to:
Link


Got a question, comment, or a concern regarding this review?
Email them to:
craftiemom@familyfriendlygaming.com