Grand Ages Medieval
SCORE: 66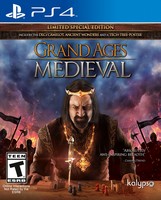 I like Grand Ages Medieval on the Playstation 4. I hope more town builder games with political intrigue are brought over to the home consoles. There are some areas Kalypso Media needs to work on which I will get into in this review. The commodity trading, and music in Grand Ages Medieval is fantastic. I also like sending scouts out to remove the fog of war.
Starting out in our own town and learning how to build, recruit, and more is really fun. I wish Grand Ages Medieval had a single player sandbox mode. The storyline in is okay. I just enjoy building and exploring at my own pace. There is also fighting that is a part of Grand Ages Medieval. It is limited and actually pretty lame.
I hated having to bribe other cities to become friends with them. I also started to wonder why the empress had me do everything. Can't some of these other mayors or governors fix things like bridges? A delicate balance is needed in Grand Ages Medieval. Otherwise you run out of food or other materials. This frustrated me to no end.
There is another major frustration in Grand Ages Medieval - the controls. The lack of intelligent design in the controls sticks out like a sore thumb. I eventually adapted to them, but they never felt natural. There is also a lot of confusion thanks to the tiny graphics and even smaller words. Which made completing goals more difficult than it needed to be.
The issues families will want to be aware of is enticement to lust, violence, blood, and more. There is online multiplayer in Grand Ages Medieval. I am bummed there is no local multiplayer in Grand Ages Medieval. There is also mainly one path to victory in Grand Ages Medieval. I wish there were multiple paths.
I liked trading with other cities. I wish it were not so cumbersome to send a trader to a city personally. Once we have an accord it should be easily done from our town. Plenty of DLC was included in the physical copy.
- Paul
Graphics: 60%
Sounds: 80%
Replay/Extras: 90%
Gameplay: 40%
Family Friendly Factor: 60%

System: PC/PS4(tested)
Publisher: Kalypso Media
Developer: Gaming Mind Studios
Rating: 'T' - THIRTEEN and OLDER ONLY {Blood, Violence}

Want more info on this product, the company that made this product?
Set web browser to:
Link


Got a question, comment, or a concern regarding this review?
Email them to:
pbury@familyfriendlygaming.com