Disney Art Academy
SCORE: 80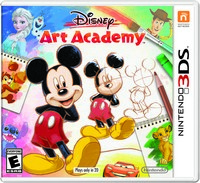 My hubby is so amazing. He constantly prioritizes games others are interested in before himself. His example of service is something PR and Marketing agencies for video games could learn from. This is exactly why Family Friendly Gaming purchased a copy of Disney Art Academy. He knew this drawing game was of interest to me. He made sure it was at the top of the list so I was taken care.
There are over eighty characters to draw in Disney Art Academy. The story involves an art academy - I know pretty lame. What I like the most about Disney Art Academy is it starts us with coloring and then moves us slowing into more complex drawing. There are plenty of art lessons to learn from Disney Art Academy on the Nintendo 3DS.
The graphics in Disney Art Academy look as good as you can draw. There are different widths to the pencils and brushes in Disney Art Academy. We can also paint on different layers of the drawing. Disney Art Academy is not going to be exactly like the real thing. It can emulate real life drawing enough so families can see if an investment in the costly equipment makes sense. I enjoyed my time with Disney Art Academy.
If you are into art and into Disney then Disney Art Academy is a game that may interest you. I liked playing this hand held drawing game. It is not at the quality of CAD software, but then there is also a large price differential. Families can share their drawings via local play, download play, and the Internet.
The music in Disney Art Academy is pleasing to the ear canal. I hope to see more games like Disney Art Academy in the near future. Would you like a video capture of this hand held game?
- Yolanda
Graphics: 80%
Sound: 80%
Replay/Extras: 80%
Gameplay: 70%
Family Friendly Gaming: 90%

System: Nintendo 3DS
Publisher: Nintendo
Developer: Headstrong Games
Rating: 'E' - Everyone SIX and OLDER ONLY

Want more info on this product, the company that made this product?
Set web browser to:
Link


Got a question, comment, or a concern regarding this review?
Email them to:
craftiemom@familyfriendlygaming.com