Continuum Season Four
SCORE: 48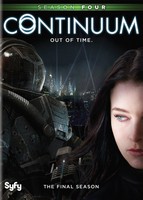 Since my family knew I was curious how Continuum ended they gave me Continuum Season Four on DVD for Father's Day. I am happy to see this show end. At the same time some of the thought provoking concepts will be missed. I wish Continuum could have been done in a more family friendly manner as well. As is, Continuum Season Four is for adults only. Especially with the blood and gore.
I am surprised that Continuum Season Four is only six episodes. The pace is much quicker, and feels really rushed. Like they wanted to get so many different concepts in but were really limited by this show that is barely over one quarter of a normal television show season. We find out who the mech suits are, and how they relate to Brad. Kellog becomes a major player in Continuum Season Four.
The issues families need to know about Continuum Season Four is blood, violence, horrible bad language, gore, lies, deceit, enticement to lust, sexual deviancy, and more. Why can't TV shows clean up their acts? They do not need all the bad stuff to be entertaining. Which is why so many families are rejecting new television shows. I see such potential in Continuum Season Four. I am sad it was not realized.
Different factions have different agendas in Continuum Season Four. It becomes apparent that very few characters in Continuum Season Four can trust other characters. The Traveler is a cool character in Continuum Season Four who helps guide many of the other characters. Most characters in Continuum Season Four play to their stereotypes amazingly well.
SPOILER ALERT! Kiera Cameron finally makes it back to her time. Continuum Season Four has a bit of twist in store for viewers though. There is another her in that timeline. So she can see her son from afar, but he is a bit different from the son she remembers. What eventually happens to her? We don't know. Kellog's fate is even worse as he is sent back in time to when there was no technology and just tribal people.
- Paul
Graphics: 40%
Sound: 40%
Replay: 40%
Gameplay: 70%
Family Friendly Factor: 50%

System: DVD
Publisher: Universal Home Entertainment
Developer: Reunion Pictures
Rating: 'NR' - Not Rated

Want more info on this product, the company that made this product?
Set web browser to:
Link

Make a Purchase - Link

Got a question, comment, or a concern regarding this review?
Email them to:
pbury@familyfriendlygaming.com