Arrow Season Four
SCORE: 43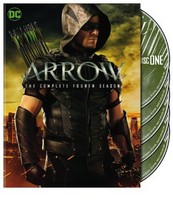 Arrow Season Four is so wishy-washy. Oliver tries to do things differently. He tries to be light and hope. At the end of the season he kills Damien Darhk in cold blood. He orphans a little girl. He found a way to keep Malcolm alive earlier in the season. Heroes in Arrow Season Four blame themselves for tragedies that happen. Plenty of characters die off in Arrow Season Four.
Arrow Season Four also has certain characters being brought back to life. There is blood, violence, murder, lies, lack of trust, sexual deviancy, attacks on Biblical marriage, theft, reincarnation, attacks on Christmas, false gods, attacks on men, magic, and more. Arrow Season Four promotes the highly divisive, controversial and confusing holiday word.
Vandal Savage, Flash, Hawkman, Hawkgirl, Vixen, and other DC characters make appearances in Arrow Season Four. HIVE is the main bad organization Team Arrow must deal with in Arrow Season Four. Their plan is to destroy the world, and live safely underground until they can emerge and restart the human race. I am not sure why they think they can do better.
I like how Arrow Season Four connects with the other DC television shows. I wish this was done by more comic book based television shows and movies. It gives us a teaser for the others so we can see if we want to watch them or not. Plenty of plot twists happen in Arrow Season Four. Thing is many of them feel familiar from previous seasons. Like the death of a major character. I actually predicted it many episodes prior.
I purchased Arrow Season Four for ten dollars on Black Friday 2016. I keep hoping this show will turn around and become more family friendly. Arrow Season Four feinted that direction at one point, and then obliterated it. There is too much adult only content, too much controversial and divisive content.
- Paul
Graphics: 40%
Sound: 45%
Replay: 70%
Gameplay: 30%
Family Friendly Factor: 30%

System: DVD
Publisher: Warner Bros
Developer: DC Comics
Rating: 'NR' - Not Rated

Want more info on this product, the company that made this product?
Set web browser to:
Link


Got a question, comment, or a concern regarding this review?
Email them to:
pbury@familyfriendlygaming.com