Anno 2205
SCORE: 73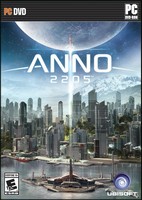 I am very thankful Family Friendly Gaming purchased a copy of Anno 2205 on the PC. I hate having to deal with that UPlay portal that glitches too often. After installing Anno 2205 we had to download over four gigs of an update otherwise Anno 2205 would not work. I was finally able to play Anno 2205. Even though our computer specs are just above the requirements I found Anno 2205 to be lagging and glitchy.
The installation and loading takes forever in Anno 2205. We also have to sit through the intro movie every single time we play Anno 2205. All of these issues, glitches, and irritations aside I actually enjoyed Anno 2205 for a bit. I love designing a city by putting housing and energy plants out there. Too often Anno 2205 desegregated into fixing resource imbalances. Which is lame when the game keeps telling the player to add more of something.
I love the concept of being able to colonize the moon in Anno 2205. Which is probably why there are only three places to start from. There are also three difficulty settings in Anno 2205. The graphics are really good in Anno 2205. I had to figure out how to do everything in Anno 2205 because it does not explain much. The controls in Anno 2205 are bit confusing. I used trial and error to figure out how to do things and get rid of pop up menus.
The voice acting is not to my personal liking. I am sure some of our readers will email us that I should have been hired as a voice actor. The resource management of Anno 2205 is the core of the game play. I did not find a sandbox mode for Anno 2205 unfortunately. It would have been neat to have unlimited funds and create whatever kind of town I wanted to create.
I love the concept of promoting employees in Anno 2205. I had fun playing Anno 2205. This is a slow and methodical kind of a video game. Which is the kind I actually enjoy from time to time. I wish Anno 2205 was released on the home consoles. Maybe it would be less glitchy. I hope to see sequels to Anno 2205 in the future. There is some bad content in Anno 2205. Thankfully a little less than what is in the Tropico franchise.
- Paul
Graphics: 80%
Sounds: 70%
Replay/Extras: 80%
Gameplay: 60%
Family Friendly Factor: 75%

System: Personal Computer
Publisher: Ubisoft
Developer: Blue Byte
Rating: 'E' - Everyone SIX and OLDER ONLY {Alcohol Reference, Language, Mild Violence}

Want more info on this product, the company that made this product?
Set web browser to:
Link


Got a question, comment, or a concern regarding this review?
Email them to:
pbury@familyfriendlygaming.com