Allegiant
SCORE: 50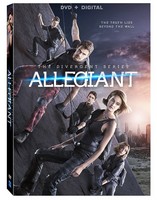 Family Friendly Gaming recently had a movie night where we watched Allegiant. I was surprised we had not sounded off on this franchise yet. If and when we get time we will need to go back to previous movies and do reviews. Allegiant is in the Divergent series. We finally meet people outside the wall and find out what the Chicago experiment is all about.
SPOILERS ALERT! Those evil pharmaceutical companies tried to genetically alter children to create perfect people. Sounds like Nazi Germany huh? There is a group trying to return humanity to its genetic original state. Tris is the only known complete pure human to come out of the Chicago experiment. The rest are considered damaged.
Four learns more about what is going on outside the wall than Tris does. The director whom is generally referred to as David is a lying, scheming, conniving slime ball. It seems like every single leader in the Divergent series is shown as bad. It is like Allegiant does not like anyone being given leadership.
Allegiant preaches against having any kind of different categories of people. Allegiant does not like some having rights that others do not. I wonder how the extreme liberalism of Hollywood appreciates this movie? After all liberals keep trying to grant special privileged status to certain groups. I also wonder how Allegiant connects to rebellion against what God did at the Tower of Babel.
Allegiant has plenty of violence, death, kidnapping, theft, lying, nudity and more. Numerous scenes in Allegiant were not needed. Too many of them are drawn out when they did not need to be. Life is shown to have very little value in Allegiant. There are the haves and the have nots. The haves take from the have nots. A little lesson in there in Allegiant that shows how much he rich are hated.
Allegiant touches on some interesting issues, concepts and ideas. Take trials and mob rule for example. Also how force is needed to overthrow someone you disagree with. Why was the Allegiant book split into two movies?
- Paul
Graphics: 40%
Sound: 60%
Replay: 50%
Gameplay: 50%
Family Friendly Factor: 50%

System: DVD
Publisher: Lionsgate
Developer: Summit Entertainment
Rating: 'PG-13' - Parents Strongly Cautioned {Intense Violence, and Action, Thematic Elements and some Partial Nudity}

Want more info on this product, the company that made this product?
Set web browser to:
Link


Got a question, comment, or a concern regarding this review?
Email them to:
pbury@familyfriendlygaming.com