All-Pro Football 2K8
SCORE: 66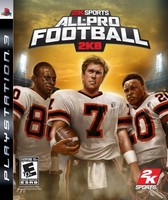 I gave All-Pro Football 2K8 every chance to score a touchdown and this pretender football game let me down. There are 240 legends of football like Joe Montana, Jerry Rice, and more. They are drafted onto completely different teams since EA Sports locked down the NFL with a contract. I don't mind the different teams.
All-Pro Football 2K8 is a very defensive video game. It is tough to do much of anything in All-Pro Football 2K8. Passing in All-Pro Football 2K8 is horrendous. Players must know the timing of when to throw. In fact anticipation is also a part of the kicking game. Snow weighed down a thirty yard field goal and the ball landed in the end zone. Kickers routinely fall as well as other glitches in All-Pro Football 2K8.
Penalties in All-Pro Football 2K8 are confusing. My running back was face masked, horse collared, and I was held on defense. No penalty. Then my quarterback under throws a receiver and he bumps a defender to get the ball - pass interference on the defense. Okay. Characters hit hard and there plenty of crunching sounds. As well as bad language in All-Pro Football 2K8. The 2K Beats offensive songs can be turned off.
The menu screen controls are confusing. For two players to play one another they each must create a team. The AI in this game is horrible. The cornerbacks drop more interceptions in All-Pro Football 2K8 than I could count. All-Pro Football 2K8 contains Quick Game, Teams, Season, Practice, Options, Features, and Online. If you watch a replay in All-Pro Football 2K8 then you can not challenge the ruling on the field.
I wish All-Pro Football 2K8 was a better football game. The idea of the legends is perfect. The controls and implementation of this game is not.
- Frank
Graphics: 80%
Sound: 60%
Replay/Extras: 70%
Gameplay: 50%
Family Friendly Factor: 70%

System: Xbox 360/PS3(tested)
Publisher: 2K Sports
Developer: Visual Concepts
Rating: 'E10+' - Everyone TEN and OLDER ONLY
{Mild Language}

Want more info on this product, the company that made this product?
Set web browser to:
Link


Got a question, comment, or a concern regarding this review?
Email them to:
GameReviews@familyfriendlygaming.com