7th Dragon III Code VFD
SCORE: 54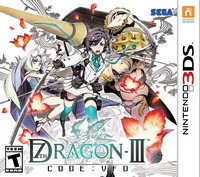 7th Dragon III Code VFD on the Nintendo 3DS had so much promise and potential. It is a shame to see Sega throw it away. We have dragons attacking humans, and the Noden Enterprises corporation comes up with a way to fight the dragons. By going back into time and defeating them in the past. Role playing gamers work their way up the different dragons to get to and defeat the biggest one.
Where does 7th Dragon III Code VFD go wrong? There is violence, enticement to lust, false gods, Old Earth theory, spirits, horrible bad language, Eastern religious beliefs, promotes the Global Warming Lie, and more. I wish Sega had taken the time to complete 7th Dragon III Code VFD. We do not get English speaking voices. We get to listen to them prattle on in Japanese. Why can't some of these companies take the time to complete their games, or remove the Japanese voices? Is that really too difficult for them to do?
Players start with a limited number of character classes. The more this 3DS game is played the more classes are unlocked. I stuck with my originals as much as possible. Even on the easiest difficulty there is some grinding required in 7th Dragon III Code VFD. The turn based battles are boring with the exception of the different skills we spend points on to learn. There are also ways to make our characters super powerful for a limited amount of turns. Works best on the boss characters.
Players spend their time going through dungeons helping the people of the past, rescuing those in need, and fighting dragons. Dragons can be all over the map on top of regular enemy fights. Kind of like the super powerful monsters in the Etrian games. In fact a lot of 7th Dragon III Code VFD reminds me of the Etrian games. 7th Dragon III Code VFD is not in the first person mode though. 7th Dragon III Code VFD does have the same art style and gameplay concepts.
I am thankful Family Friendly Gaming purchased a copy of 7th Dragon III Code VFD on the Nintendo 3DS. Sega's PR and Marketing failed Family Friendly Gaming on this game from top to the bottom.
- RPG Master
Graphics: 50%
Sound: 50%
Replay/Extras: 70%
Gameplay: 60%
Family Friendly Factor: 40%

System: Nintendo 3DS
Publisher: Sega
Developer: Sega
Rating: 'T' - THIRTEEN and OLDER ONLY {Fantasy Violence, Language, Mild Blood, Suggestive Themes}

Want more info on this product, the company that made this product?
Set web browser to:
Link


Got a question, comment, or a concern regarding this review?
Email them to:
GameReviews@familyfriendlygaming.com