Yoshi's Woolly World
SCORE: 70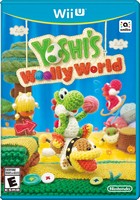 I have gone through a wide array of growth while playing Yoshi's Woolly World. The depth of that growth is amazing considering it only took me six hours to beat Yoshi's Woolly World on the Wii U. I like having another Yoshi game. I wish there were more differences since so many of the levels feel very familiar. The sounds were imported from previous Yoshi games.
My biggest complaint about Yoshi's Woolly World is the price. This is a really short game. Sure you can double that game play time by trying to find all of the collectible items. The yarn, hearts, and flowers. There are plenty of cool badges to unlock in Yoshi's Woolly World. Note they cost gems which are collected in the levels. You can waste your gems on a badge that does not help in certain levels.
Yoshi's Woolly World has a Mellow mode for casual gamers who can not get through harder levels. This can be changed at any time. Amiibos can be used to change the skin of your Yoshi. Families can even get a normal looking Yoshi if they have that Amiibo. There is two player co-op which can lead to real world arguments, since one player can suck up the other player.
Yoshi's Woolly World contains action adventure violence. Enemies will unravel since they are all made out of yarn. Yoshi can die, and then players start at the last continuation flower. Note there are no lives in Yoshi's Woolly World. Die as many times as you want in this home console video game. The Wii U Gamepad, and the Wii U Pro Controllers are the best way to play Yoshi's Woolly World. The Wii Remote controls for this game are horrible.
Yoshi's Woolly World has a similar look to Kirby's Epic Yarn. Not much innovation there. Truth be told there is not much innovation in Yoshi's Woolly World anywhere. Numerous enemies from previous games make repeat appearances. We fight some of the same bosses in fortresses and castle. All in all Yoshi's Woolly World is worth around fifteen to twenty dollars in my opinion.
- Paul
Graphics: 70%
Sounds: 80%
Replay/Extras: 60%
Gameplay: 70%
Family Friendly Factor: 70%

System: Wii U
Publisher: Nintendo
Developer: Good-Feel
Rating: 'E' - Everyone SIX and OLDER ONLY {Mild Cartoon Violence}

Want more info on this product, the company that made this product?
Set web browser to:
Link


Got a question, comment, or a concern regarding this review?
Email them to:
pbury@familyfriendlygaming.com