The Legend of Legacy
SCORE: 50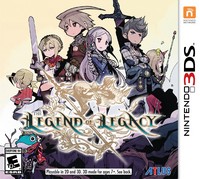 Family Friendly Gaming rented The Legend of Legacy this month. This Nintendo 3DS role playing video game has a long list of issues that families will want to be aware of. There are suggestive themes, false gods, bad language, worship of idols, magic, bars, pubs, and more.
The Legend of Legacy is really mean to players in terms of leveling up. You can level up and get no improvements to your stats. What is the point of that level up? Each weapon has its own level up, and the same goes for the shield and blocking attacks. The Legend of Legacy can be the most boring role playing video game to play on any system from any time period.
Players are expected to map out areas and sell them to the shop keeper. Then buy a blank map to a new area and do it over again. There is little reason to get in fights with monsters with this kind of a set up. Running from battles puts you at the beginning of the dungeon. Which means you can fight and die, or run away and be far away from where you once were.
The graphics are tiny, and look they belong on the Gameboy Advance. Actually I have seen GBA games that look better and have larger graphics than The Legend of Legacy. This is a shameful release by Atlus on so many fronts.
The leadership in The Legend of Legacy is weak, and uncaring. Sad to see another video game that is attacking of leadership. Players have to deal with wisps and elementals in The Legend of Legacy on the Nintendo 3DS. There are also temples to false gods. The battles are boring in The Legend of Legacy.
It is easy to die in The Legend of Legacy, and easy to level up. Remember leveling up can be meaningless in this hand held video game. Enemies can be seen on the screen, and players can choose from a variety of characters to play.
- RPG Master
Graphics: 40%
Sound: 50%
Replay: 80%
Gameplay: 40%
Family Friendly Factor: 40%

System: Nintendo 3DS
Publisher: Atlus USA
Developer: FuRyu
Rating: 'E10+' - Everyone TEN and OLDER ONLY
{Alcohol Reference, Fantasy Violence, Language, Mild Suggestive Themes}

Want more info on this product, the company that made this product?
Set web browser to:
Link


Got a question, comment, or a concern regarding this review?
Email them to:
GameReviews@familyfriendlygaming.com