Tales of Zestiria
SCORE: 60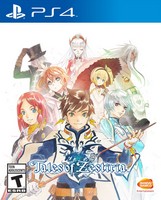 I am thankful Family Friendly Gaming rented a copy of Tales of Zestiria on the PS4 due to the PR and Marketing failures of Bandai Namco Entertainment. This Tales game drops quite a few things, and goes off in a puzzling direction. The main character is the Shepherd, and he can see the Seraph. He can also see Hellions. The closest I can equate these are angels and demons. However the angels or Seraph act bad at times.
Tales of Zestiria teaches gamers to worship all kinds of false idols like trees. It is like Bandai Namco Studios tried to incorporate some Christian elements, and then put them in the wrong spots. Some may even call Tales of Zestiria hate speech against Christians since it is so hateful towards leaders - especially in the church. Sorey the Shepherd is sort of a Christ like figure. At the same time he is constantly fighting a variety of creatures and characters.
Tales of Zestiria may be one of the most religious video games of all time. There are all kinds of false worship while the characters are on a quest to purify the world of malevolence. Enticement to lust, lack of attire, visual glitches (hair sticking through a hat), violence, blood, gore, bad language, magic, tobacco, drugs, alcohol, violence and more are many of the issues families will have with Tales of Zestiria.
Dragonball Ball Z Fusion can be found in Tales of Zestiria. The main character has to fuse with certain Seraph to gain different elemental powers. This fusion is needed to beat certain monsters and boss characters. Enemies can be seen on the screen and avoided if you choose not to grind up. A star is shown on the screen or press R1 to read where to go next in this role playing game. It is difficult to get lost in Tales of Zestiria.
Anime cut scenes look amazing in Tales of Zestiria (like the game intro). This game looks better visually than previous Tales games. Voice actors from previous games can be heard in Tales of Zestiria. Saves are easy to find. There are plenty of talking scenes to learn all about this odd fantasy world. In my opinion Tales of Zestiria is worth twenty-five dollars.
- RPG Master
Graphics: 50%
Sounds: 50%
Replay/Extras: 80%
Gameplay: 70%
Family Friendly Factor: 50%

System: PC/PS3/PS4(tested)
Publisher: Bandai Namco Entertainment
Developer: Bandai Namco Studios
Rating: 'T' - Teen THIRTEEN and OLDER ONLY {Alcohol Reference, Blood, Mild Language, Suggestive Themes, Use of Tobacco, Violence}

Want more info on this product, the company that made this product?
Set web browser to:
Link


Got a question, comment, or a concern regarding this review?
Email them to:
GameReviews@familyfriendlygaming.com