Street Fighter V
SCORE: 32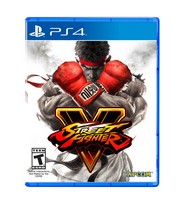 Capcom PR and Marketing failed Family Friendly Gaming. I appreciate Family Friendly Gaming renting this game. There is no way I will ever consider purchasing Street Fighter V at any price. This game is pathetic. The loading times are long, and the normal game play modes are lacking.
Street Fighter V is filled with violence, enticement to lust, sexual themes, lack of attire, women busting all out, profanity, and more. I am very disappointed with this fighting game. The hardest mode is easy, the stories are short, few stages to play in, and there are few characters to play. The characters are grossly unbalanced. Ryu has become the new Dan which is offensive on so many levels as a long time Street Fighter gamer.
The graphics of Street Fighter V are stunning. The characters, and stages look amazing. The special effects look awesome in Street Fighter V. The audio in Street Fighter V is okay. The voices are around average in my professional opinion. The modes in Street Fighter V are Training, Survival, Vs, Story, and Online. Street Fighter V is way too online heavy, and not enough offline.
Street Fighter V is a rental at best. After an hour of Street Fighter V I was bored with it. I fought through and played some more. It was a waste of time. Capcom should be ashamed of Street Fighter V. I am ashamed that I played it. The objectification of women is horrible in this bash them in the face video game.
Where is Blanka in Street Fighter V? Rashid is a new character that is actually fun to play. M. Bison is very overpowered in Street Fighter V. Ken is now better than Ryu, which is annoying to me. I love playing Ryu in other Street Fighter video games. Street Fighter V kills off the Ryu character. Dhalism has aged really bad, and can now move in very unrealistic ways.
Street Fighter V is officially the worst Street Fighter video game of all time. At least in terms of Street Fighter video games I have played that belong to the mainline Street Fighter video games. I recommend the millions of readers in Family Friendly Gaming Universe pass on this game.
- Mark
Graphics: 20%
Sounds: 40%
Replay/Extras: 30%
Gameplay: 40%
Family Friendly Factor: 30%

System: PC/PS4(tested)
Publisher: Capcom
Developer: Capcom
Rating: 'T' - Teen THIRTEEN and OLDER ONLY {Mild Language, Suggestive Themes, Violence}

Want more info on this product, the company that made this product?
Set web browser to:
Link


Got a question, comment, or a concern regarding this review?
Email them to:
GameReviews@familyfriendlygaming.com