Samurai Warriors 4-II
SCORE: 50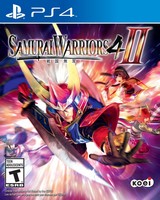 I appreciate Family Friendly Gaming rented a copy of Samurai Warriors 4-II on the Playstation 4. That way we can avoid nasty Internet usage fines, since PR agencies have tried to pawn distribution costs off on us, and they can somehow provide physical copies for retailers. Guess the millions upon millions of readers in Family Friendly Gaming Universe do not rate high enough for us to receive a physical copy for review.
Samurai Warriors 4-II is filled with violence, Japanese voices, enticement to lust, blood, gore, bad language, Eastern religious beliefs, and cut scenes that can not be skipped. Certain armies in Samurai Warriors 4-II have guns. Which feels off with all of the swords, and spears. I like calling a horse, and commandeering on that I took from a dead enemy general. The horses in Samurai Warriors 4-II are not like that one in Dances with Wolves.
The visuals in Samurai Warriors 4-II are really good. There is a shine and polish. I loved the Co-op mode in Samurai Warriors 4-II. Two family members can play on a split screen. Player one is at the top, and player two is at the bottom. There are thirteen chapters in Samurai Warriors 4-II. Each chapter has multiple levels. Expect the same game play mechanics though.
Samurai Warriors 4-II is the quintessential hack and slash video game. Players literally murder over a thousand enemies per level. There is the running around to certain areas to beat more powerful characters. I found it was easy to get going the wrong direction, and lost in Samurai Warriors 4-II. Especially when there are enemy characters asking for you to pad your murderous numbers.
The modes in Samurai Warriors 4-II are Story, Free, Survival, and Dojo. Samurai Warriors 4-II also has the frowned upon online game modes in it as well. Samurai Warriors 4-II is such a large installation that I had to delete numerous games so it would install. The industry is going the wrong direction with these installations on hard drives on the home consoles. It is making gaming a worse experience. Large games like Samurai Warriors 4-II are proof of this.
- Mark
Graphics: 40%
Sounds: 50%
Replay/Extras: 70%
Gameplay: 50%
Family Friendly Factor: 40%

System: Playstation 4
Publisher: Koei Tecmo
Developer: Omega Force
Rating: 'T' - Teen THIRTEEN and OLDER ONLY {Violence, Mild Suggestive Themes}

Want more info on this product, the company that made this product?
Set web browser to:
Link


Got a question, comment, or a concern regarding this review?
Email them to:
GameReviews@familyfriendlygaming.com