Safecracker
SCORE: 87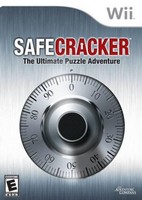 A request came in some months ago to review Safecracker. This puzzle video game is on the Wii and Personal Computer. Family Friendly Gaming found this game for under ten dollars on the Wii, and quickly made the purchase. I have been playing this game for a few weeks now.
I had my IQ tested decades ago and it was just above the genius line. I am always working on humility. Safecracker is one of those games that helps us stay humble. Why is that? The puzzles are hard in Safecracker. There is little to no direction on how to beat them. To say I was confused would be an understatement. I finally decided to accept help from a FAQ/Walkthrough to help me see this story driven video game.
The graphics in Safecracker are realistic. The music is great, and the premise of this game is fantastic. A wealthy recluse left his will and testament somewhere on his property. The player is a master at cracking safes. This recluse also had a lot of different kinds of safes. The will is believed to be in one of them. Players must crack the safes and find clues throughout their exploration. Safecracker will take families some time to complete. Only one family member can play Safecracker at a time.
The controls in Safecracker can be confusing at first. Especially with little direction given to the player. I wish Safecracker had come with some sort of a hint system. That would have propelled this puzzling video game to the next level in terms of review scores.
Safecracker can be found for a very low price. If you are into challenging puzzle video games where what you need to do is always changing, then you need to look at purchasing Safecracker on the Wii and/or Personal Computer. I hope DreamCatcher Interactive continues to make games like Safecracker in the future. I would love to see a sequel to Safecracker in the near future as well. I think it has a ton of potential.
- Paul
Graphics: 90%
Sound: 90%
Replay: 100%
Gameplay: 70%
Family Friendly Factor: 85%

System: PC/Wii(tested)
Publisher: DreamCatcher Interactive
Developer: Daydream Software, Kheops Studio
Rating: 'E' - Everyone SIX and OLDER ONLY

Want more info on this product, the company that made this product?
Set web browser to:
Link


Got a question, comment, or a concern regarding this review?
Email them to:
pbury@familyfriendlygaming.com