Project X Zone 2
SCORE: 56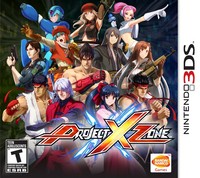 I appreciate Family Friendly Gaming rented a copy of Project X Zone 2 on the Nintendo 3DS. The PR and Marketing for Bandai Namco Entertainment failed us in glorious fashion. They probably don't want an honest opinion on this hand held strategy role playing game that mixes in fighting elements. The map screens are SRPG. The battle screens have a choice of attacks that play out in what looks like a fighting game.
Expect long and boring dialogue in Project X Zone 2 with many of the voices in Japanese. Project X Zone 2 feels half done in the audio department. There is also bad language in this 3DS game. Enticement to lust, nudity, lack of attire, violence, indoctrination into believing in false gods/goddesses and more.
The graphics are small and not that great in Project X Zone 2. Maybe because there are so many characters in this game. The problem there is we get lost in all these characters and they lose their value. There is also a lack of real SRPG strategy in Project X Zone 2. Surround the enemies and keep your characters close for additional attacks. It feels like Project X Zone 2 took a step backwards from the first game.
Players can geek out seeing all of the different characters in Project X Zone 2. That is if you know who they are and from what franchises they belong to. There are plenty of characters this reviewer was not familiar with. There are cool moments in Project X Zone 2 like when Strider meets Shinobi.
The exposed breasts in Project X Zone 2 are at a very high degree. There are plenty of characters from macabre and morbid rated franchises. How did this game get the 'T' rating instead of the 'M' one? Dimensional rifts open, and we see characters from different franchises, and eras. What is really strange is seeing the same character from different time periods. Project X Zone 2 is worth ten dollars.
- WMG
Graphics: 40%
Sound: 50%
Replay: 90%
Gameplay: 50%
Family Friendly Factor: 50%

System: Nintendo 3DS
Publisher: Bandai Namco Entertainment
Developer: Monolith Soft
Rating: 'T' -THIRTEEN and OLDER ONLY
{Fantasy Violence, Language, Mild Blood, Partial Nudity, Suggestive Themes}

Want more info on this product, the company that made this product?
Set web browser to:
Link


Got a question, comment, or a concern regarding this review?
Email them to:
GameReviews@familyfriendlygaming.com