Mario Tennis Ultra Smash
SCORE: 70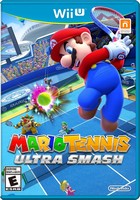 I am thankful that Family Friendly Gaming rented a copy of Mario Tennis Ultra Smash on the Wii U. This home console tennis game has more of an arcade feel to it. There is a more traditional tennis mode in Mario Tennis Ultra Smash, however it still has a few power ups. The modes in Mario Tennis Ultra Smash are Mega Battle, Mega Ball Rally, Knockout Challenge amiibo, Classic Tennis, and Online. There is also a place to see how many of the twenty-five achievements you have unlocked. There are sixteen characters in Mario Tennis Ultra Smash.
I like how huge our characters can get in Mario Tennis Ultra Smash in the Mega Battle mode. It gives that player a distinct advantage. In fact the only reason certain points were lost was because the opponent was large and my character was not. The smashes are easy to perform on the Wii U Gamepad. They are much harder on the Wii Remote. I did not try them on the Wii U Controller.
Mario Tennis Ultra Smash sounds good, and looks good. I enjoyed playing this tennis game for about any hour. Then I got pretty bored with it. I was not the only one either. Others here at Family Friendly Gaming got bored with Mario Tennis Ultra Smash even faster. There is such a low amount of content that this home console sports video game with arcade tendencies was released at a way over-inflated price. I personally would consider purchasing Mario Tennis Ultra Smash for fifteen to twenty dollars. Mario Tennis Ultra Smash is not worth more than twenty dollars.
Mario Tennis Ultra Smash is a solid simplistic tennis video game. Characters can get hit with the ball in Mario Tennis Ultra Smash. In fact this Wii U video game draws attention to the fact that the ball hit the character instead of them hitting it with their tennis racket. I even ran into a glitch in Mario Tennis Ultra Smash related to that. My character was standing in front of the net swinging the racket. He missed the ball, and hit my character. The ball then went over the net and landed on the other side. To me that is a point for me, not for the person I am playing against. The ball never bounced on my side and bounced twice on theirs. This was not a serve either.
- Frank
Graphics: 80%
Sound: 80%
Replay: 40%
Gameplay: 80%
Family Friendly Factor: 70%

System: Wii U
Publisher: Nintendo
Developer: Camelot
Rating: 'E' - Everyone SIX and OLDER ONLY

Want more info on this product, the company that made this product?
Set web browser to:
Link


Got a question, comment, or a concern regarding this review?
Email them to:
GameReviews@familyfriendlygaming.com