Lego Marvel's Avengers
SCORE: 68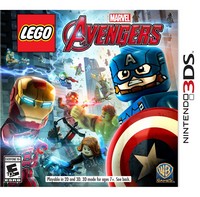 For as long as I could remember Family Friendly Gaming was provided two reviewable copies for Lego video games. One for the home consoles, and one for the hand helds. I loved seeing a box coming in and there were two Lego video games in them. I got to play the hand held versions when the reviews were done. Then not that long ago something changed. The gaming companies decided to pawn the distribution costs off on us (and consumers). We recently started to receive download codes for the home console version only.
Thankfully my dad stepped up to the plate and did the right thing. He started saving Family Friendly Gaming money to purchase the physical copies of these games when they came down in price. Lego Marvel Avengers on the Nintendo 3DS is the perfect example. This is a fun game for kids that has the Lego charm. I hope WB Games returns to traditional values soon.
There are sixteen levels in Lego Marvel Avengers with a small open world areas to explore. I got stuck in Lego Marvel Avengers on the 3DS a lot. My dad had to help me through certain areas. He had to replay certain levels because Lego Marvel Avengers will get stuck in certain areas. I did something out of order and the game got confused and did not present the next thing I needed to finish the area. So it just got stuck. Like a lock up but I could still move my character around.
Lego Marvel Avengers suffers from lag, glitches, violence, magic, and more. Lego Marvel Avengers follows the Ultron movie only. There is less in Lego Marvel Avengers on the Nintendo 3DS than in the home consoles. Which is fine by me. I noticed driving around in the city in a car is so overpowered. We can destroy other Lego vehicles in one hit. There are secrets in the world areas to find.
I value Lego Marvel Avengers at fifteen dollars. It would be a good deal to find it for ten dollars in my opinion. There is enough in this game to warrant that price. It is pretty easy to get multiple gold bricks in each area of Lego Marvel Avengers. Thankfully Lego Marvel Avengers does not limit us with a timer, or needing so many gold bricks to progress to the next level.
- Kid Gamer
Graphics: 60%
Sounds: 75%
Replay/Extras: 75%
Gameplay: 60%
Family Friendly Factor: 70%

System: Nintendo 3DS
Publisher: Warner Bros. Interactive
Developer: TT Games
Rating: 'E10+' - Everyone TEN and OLDER ONLY {Cartoon Violence, Comic Mischief}

Want more info on this product, the company that made this product?
Set web browser to:
Link


Got a question, comment, or a concern regarding this review?
Email them to:
GameReviews@familyfriendlygaming.com