Freedom Wars
SCORE: 55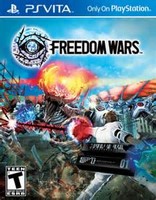 Freedom Wars is one of the few remaining Playstation Vita games Family Friendly Gaming has not reviewed. At least when we talk about video games rated 'EC' to 'T' that have physical copies. Freedom Wars is like the Monster Hunter series just much worse. Players start out fighting massive enemies that kidnap citizens. So we go out on a game of save the citizen. The player gets hit in the head and loses their memory.
Yes I know the amnesia plotline is so overused in video games. The twist in Freedom Wars comes from what happens next. The player is punished with one million years of service for the crime of losing your memory. Maybe you shouldn't have them out there in such dangerous and violent environments? Freedom Wars loves to punish players for all kinds of silly things. Like what? Talking too much, walking around too much, and more come up early in Freedom Wars.
The menu screen layout in Freedom Wars is confusing. Talk to this person for certain things, talk to a wall for others, hit start for others, and so on. Completing missions knocks off twenty, thirty, or more years from your sentence. Donating dropped items also help drop the years. And in the donation area you can literally free up hundreds of years. Freedom Wars strongly encourages players to donate their drops too. The problem is they can be better equipment which the player needs, and loses horribly without.
Freedom Wars is a difficult game. Especially with trying to understand all the different types. I found myself getting beat really bad by certain enemies because of type mis-match. Or maybe I donated too many drops. Freedom Wars is frustrating that way. The violence gets boring really fast in Freedom Wars too.
Freedom Wars has excessive amounts of violence, enticement to lust, Japanese voices, blood, and a nasty science fiction fantasy world. It was an excessive chore to play and review Freedom Wars on the Playstation Vita.
- WMG
Graphics: 50%
Sound: 60%
Replay/Extras: 75%
Gameplay: 50%
Family Friendly Factor: 40%

System: PS Vita
Publisher: Sony Computer Entertainment
Developer: Dimps, SCE Japan, Shift
Rating: 'T' - THIRTEEN and OLDER ONLY
{Blood, Mild Suggestive Themes, Violence}

Want more info on this product, the company that made this product?
Set web browser to:
Link

Got a question, comment, or a concern regarding this review?
Email them to:
GameReviews@familyfriendlygaming.com