Farming Simulator 16
SCORE: 89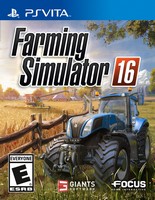 I want to apologize to Family Friendly Gaming Universe. I want to apologize that the PR and Marketing departments of Focus Home Interactive and Giants Software failed all of us so badly. I want to apologize that they lied to Family Friendly Gaming, and their lack of ethics/morals caused such a rift. Thankfully Family Friendly Gaming did the right thing and rented a copy of Farming Simulator 16 on the PS Vita.
It is great to see this farming game return to the hand helds. Farming Simulator 16 looks pretty good on the hand held. There are plenty of vehicles, fields, animals, and more in Farming Simulator 16 on the PS Vita. It is strange that this franchise skipped a year on the PS Vita. Farming Simulator 16 should be Farming Simulator 15 in my opinion. Sadly company executives do not listen. They pop something out and expect Family Friendly Gaming Universe to buy it.
The coolest thing about Farming Simulator 16 is doing missions. Players will do receive requests to do things like go pick up a load of corn. This can bring your character a ton of money. Which can be used in the automation process. I love hiring workers and having them deliver a load, sow a field, harvest a field, and more. This would free me up to do a different job myself.
Farming Simulator 16 is a very calming game. Planting and reaping is such a normal part of life. Farming Simulator 16 reminds me we need farming, and farmers. They are the engine that feeds many people on this planet. Farming also encourages me to plant my own fruit and vegetables. My native area may not work for all fruits and vegetables but there has to be some.
Farming Simulator 16 looks good graphically, sounds good audible, and controls easily. I hope to see sequels of Farming Simulator 16 in the future. I also love how Farming Simulator 16 has been released in the physical copy format. Only one family member can play Farming Simulator 16 on the PS Vita at a time. I enjoyed playing Farming Simulator 16 on this hand held device.
- Mark
Graphics: 90%
Sound: 90%
Replay: 85%
Gameplay: 80%
Family Friendly Factor: 95%

System: PS Vita
Publisher: Focus Home Interactive
Developer: Giants Software
Rating: 'E' - Everyone SIX and OLDER ONLY

Want more info on this product, the company that made this product?
Set web browser to:
Link


Got a question, comment, or a concern regarding this review?
Email them to:
GameReviews@familyfriendlygaming.com