Etrian Mystery Dungeon
SCORE: 47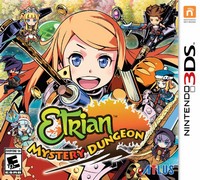 Atlus has been guilty of a lot of things over the years. Making a lot of family friendly video games is not one of them. With all of the bad content how did Etrian Mystery Dungeon get an 'E10+' rating instead of a 'T' rating? Is this another example of video game corruption? Atlus has been in the middle of at least one corruption scandal before. The ESRB has been surrounded by corruption rumors for years. It not far fetched, or conspiracy theorist to wonder.
Etrian Mystery Dungeon is a mystery dungeon kind of a game done with Etrian characters and classes. Etrian Mystery Dungeon is also done in the slow, methodical, and boring style the other Etrian games are done in. Etrian Mystery Dungeon is extremely difficult and very cheap in terms of how players can be killed off. Dying is horrible in Etrian Mystery Dungeon. You lose half your money and some of your equipped armor/weapons.
The music in Etrian Mystery Dungeon is nice, and building forts is really cool. I loved manning my forts with characters. I lost touch with any and all of my characters after that though. Forts also stop the randomly generated floors. But it does not immediately map them out for you. Remember it tries to make things hard on you.
There is bad language, violence, magic, enticement to lust, blood, and Eastern religious teachings. The storyline is dull and overused. The characters and classes fit into that same category. It was a real chore to play and review Etrian Mystery Dungeon on the Nintendo 3DS.
The graphics in Etrian Mystery Dungeon are tiny, and the 3D effects nearly worthless. It takes forever to level characters up in Etrian Mystery Dungeon. They can level up by manning forts. Again that also takes forever. It does not take long for the levels in Etrian Mystery Dungeon to look the same. Even with different skins on the walls and floor. There are only so many level designs Spike Chunsoft came up with, and it shows in Etrian Mystery Dungeon on the 3DS.
- RPG Master
Graphics: 40%
Sound: 50%
Replay/Extras: 85%
Gameplay: 10%
Family Friendly Factor: 50%

System: Nintendo 3DS
Publisher: Atlus
Developer: Spike Chunsoft
Rating: 'E10+' - Everyone TEN and OLDER ONLY
{Alcohol Reference, Fantasy Violence, Language, Mild Blood, Mild Suggestive Themes}

Want more info on this product, the company that made this product?
Set web browser to:
Link

Got a question, comment, or a concern regarding this review?
Email them to:
GameReviews@familyfriendlygaming.com