College Hoops 2K8
SCORE: 90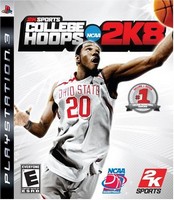 Family Friendly Gaming recently purchased a used copy of College Hoops 2K8 on the Playstation 3. This basketball video game is also on the Playstation 2, and Xbox 360. If you like basketball, then you will definitely enjoy College Hoops 2K8. If you like college basketball then College Hoops 2K8 is a must purchase for you. The game can be purchased for under ten dollars.
The presentation is the first thing that sticks out about College Hoops 2K8. We are in a hallway looking at menu screens on the wall. When we are ready to start a game, the camera pans over to show the team leaving the locker room and running down the hall. This kind of immersion is fantastic to see. I wish this franchise was going strong today. Sadly the franchise has died out with no news of returning.
The graphics and camera angles are great in College Hoops 2K8. Verne Lundquist and Bill Raftery do a fantastic job of announcing in College Hoops 2K8. They bring an excitement to the game. There are tons of teams, and divisions to play in College Hoops 2K8. There are also plenty of different modes like Legacy Mode, All-American Training Challenge.
The one issue I have with College Hoops 2K8 is the music with offensive lyrics. No surprise that the less than reliable ESRB missed that descriptor. Why does Family Friendly Gaming do a better job with finding descriptors than they do? They should pay us for finding so many of their mistakes.
College Hoops 2K8 can be challenging to learn at first. The more I played College Hoops 2K8 the better I got. To me, this was an enjoyable experience. I really want sequels to this game. Maybe someone out there will pick up the ball that is just sitting on the court. The 6th Man Advantage is great in this game.
- Frank
Graphics: 90%
Sound: 80%
Replay: 100%
Gameplay: 90%
Family Friendly Factor: 90%

System: PS2/Xbox 360/PS3(tested)
Publisher: 2K Sports
Developer: Visual Concepts
Rating: 'E' - Everyone SIX and OLDER ONLY

Want more info on this product, the company that made this product?
Set web browser to:
Link


Got a question, comment, or a concern regarding this review?
Email them to:
GameReviews@familyfriendlygaming.com