Chibi-Robo Zip Lash
SCORE: 66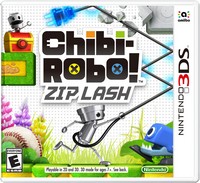 Family Friendly Gaming rented Chibi-Robo! Zip Lash on the Nintendo 3DS for this review. After playing this hand held video game I believe it is worth around fifteen dollars. When it comes down to that price I will consider making a purchase. Right now this 3DS game is overpriced, and needs to correct before families consider purchasing it.
Chibi-Robo! Zip Lash relies heavily on the power cord. Your little robot swings with it, attacks enemies, and breaks blocks. Early on the 'X' button is great. Then it is the 'Y' button that is more useful. Players must collect blue orbs to extend the length of their cord in each level. That way they can actually reach areas to collect items.
There are UFOs at the end of each level. Hitting the bronze gives you one spin, hitting the silver gives you two spins, and hitting the gold gives you three spins. What good are spins in Chibi-Robo! Zip Lash? They allow you to pick which of the six levels you go to. Note you need to complete all six levels to get the boss to appear. I had hoped that I was skipping levels at first. This is Nintendo we are talking about so no such luck.
The goal in Chibi-Robo! Zip Lash is to stop these aliens from stealing the needed resources. Chibi-Robo also collects items. Some of them are given to an airplane character for money. I love the special power ups in Chibi-Robo! Zip Lash. Turning hot and melting rock and metal is my personal favorite.
Levels in Chibi-Robo! Zip Lash are long for a hand held. There are tons of enemies to kill off, destroy. With all of this violence I am shocked Chibi-Robo! Zip Lash did not receive the E10+ rating. It certain fits into that category in my professional opinion.
- Paul
Graphics: 60%
Sound: 80%
Replay: 70%
Gameplay: 60%
Family Friendly Factor: 60%

System: Nintendo 3DS
Publisher: Nintendo
Developer: Nintendo
Rating: 'E' - Everyone SIX and OLDER ONLY
{Mild Cartoon Violence}

Want more info on this product, the company that made this product?
Set web browser to:
Link


Got a question, comment, or a concern regarding this review?
Email them to:
pbury@familyfriendlygaming.com