Arrow Season Three
SCORE: 47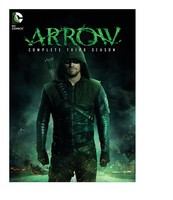 I waited for Arrow Season Three to go on sale on Black Friday. It was ten dollars for the five disc, twenty-three episode set. A fair price for a television show season with all kinds of bad content. It took me 976 minutes to watch through Arrow Season Three on DVD. There are plenty of changes and plenty of spoilers in this season. Which means there will be spoilers in this review. If you don't want to read them, then please skip the rest of this review.
Sarah gets killed early on in Arrow Season Three. This is what ends up being one of the major plot points in this season. Ra's Al Ghul becomes an integral part of Arrow Season Three. So does the League of Assassins. Team Arrow must work together to fight off the League, and save their city. We also see more of Oliver's past - when he was in Hong Kong and working with others. Oliver learns how to torture and be very vicious.
Some of the bad content within Arrow Season Three is blood, violence, enticement to lust, sexual deviancy, lies, deceit, death, and bad language. Certain evil characters are well aware they are evil, vile, and wicked. They try to justify their actions with lame excuses or even lamer stories of their past. It is obvious to see cowardice in a plethora of characters in Arrow Season Three.
Ray Palmer (The Atom) is a neat new character in Arrow Season Three. We also see The Flash, Wildcat, and other DC characters in Arrow Season Three. I keep expecting to see Clark Kent, Superman, Batman, and/or Bruce Wayne in this show. They did not make it into Arrow Season Three. Comic book fanboys will find plenty of characters they know in Arrow Season Three.
Some of the bonus content in Arrow Season Three is Second Skins Creating The Uniforms of Arrow, Nanda Parbat Constructing the Villains Lair, Commentary, Arrow at Comic-Con 2014, The Man Beneath The Suit The Atoms First Flight, Gag Reel, Unaired Scenes, and more. Arrow Season Three is pretty much a contained unit with not much of a season finale. Loose ends get tied up, meaning the show can go virtually any direction next season.
- Paul
Graphics: 40%
Sound: 45%
Replay: 70%
Gameplay: 40%
Family Friendly Factor: 40%

System: DVD
Publisher: Warner Bros
Developer: DC Comics
Rating: 'NR' -Not Rated

Want more info on this product, the company that made this product?
Set web browser to:
Link


Got a question, comment, or a concern regarding this review?
Email them to:
pbury@familyfriendlygaming.com