Splatoon
SCORE: 65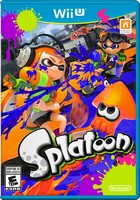 I was all ready to declare Splatoon the next big thing. We held off on saving for better video equipment and plopped down $60 for the game, and another $35 for the Amiibo three pack. After massive taxation we wound up paying over one hundred dollars on this franchise. The single player mode was beaten in five to six hours. There is one local multiplayer mode, and then a handful of online modes.
Splatoon is a rental at best. Nintendo claims additional modes are coming. Who knows how much they will charge for that upcoming DLC. Nintendo has billions in their bank account for a reason - fleecing families with overpriced products. I hoped Splatoon would last our kids the entire summer. Three days after purchasing it they are done with it. Splatoon does not have staying power unfortunately.
Splatoon is colorful, and players get to color much of the levels in Splatoon. Players can also turn into squids and go into the paint (or ink) that they have colored. This will clean up your health if paint of another color hit you, and fill up your paint meter. Paint meter? You can only shoot so much paint before you have to fill it back up.
There is one major game play mechanic in Splatoon. Ready to hear it? Shoot paint in front of you, go into squid mode, and pop out in front of an enemy and shoot it. If you can get that down then you will breeze through Splatoon. It gets boring really quickly.
Splatoon has pleasant sounds. In fact we have heard them before. Nintendo really loves to recycle. As in reuse content from other games. That way they spend less on development, and can maximize their profits. Here is a thought Nintendo - give your fanboys a break in price.
Compared to other shooters on the market Splatoon is much safer for families. Of course there are many fun games that are much safer for families than Splatoon. I guess it depends on your perspective, comparisons, and baseline. If you pay enough to your Internet provider then you can enjoy the few online modes in Splatoon. I suggest families save their money for a better game.
- Paul
Graphics: 65%
Sound: 70%
Replay/Extras: 60%
Gameplay: 60%
Family Friendly Factor: 70%

System: Wii U
Publisher: Nintendo
Developer: Nintendo
Rating: 'E10+' - Everyone TEN and OLDER ONLY
{Cartoon Violence}

Want more info on this product, the company that made this product?
Set web browser to:
Link

Got a question, comment, or a concern regarding this review?
Email them to:
pbury@familyfriendlygaming.com