Nascar 14
SCORE: 73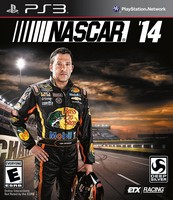 Nascar is having a real stability issue in terms of licensing. It keeps hopping all over the place. Which means Family Friendly Gaming was not aware it had been released. It was found at a local retailer on clearance. It may have avoided the clearance rack if Family Friendly Gaming was provided information to publish coverage.
Nascar 14 shows that the series is ready to move up to the next generation home console systems. Nascar 14 is too similar to past versions of this racing video game. In some ways Nascar 14 takes a step backwards too. Like where? In the controls, they are really loose in Nascar 14. Racing the line gets boring after a few races.
There is an old joke about how the only reason people watch Nascar is for the crashes. Families can still turn off the flags and create some amazing crashes. If that is your thing then Nascar 14 lets you do it.
Nascar 14 allows families to play this racing game online or local multiplayer. Local multiplayer is done with a split screen. There is only left turns in Nascar 14. Your crew chief will encourage you to race clean and avoid accidents in Nascar 14.
I ran into a few graphical glitches in Nascar 14. Like when I went into the pits at the end of a race and went through all of the cars sitting in the pits. The quizzes on the loading screens are fun if you know the history of Nascar. Nascar 14 does not do much for those not into the racing activity.
I wish Nascar 14 had done something to be inclusive of those not into Nascar. This game could have been used as an introduction to the sport. I also wish it had some kind of announcers talking about the race. It would help make it feel more real.
Nascar 14 is more difficult than previous years, and it feels like it has less options. The graphics are okay. The sound bytes get irritating after a few races.
- Frank
Graphics: 80%
Sound: 70%
Replay/Extras: 85%
Gameplay: 50%
Family Friendly Factor: 80%

System: Xbox 360/PC/PS3(tested)
Publisher: Deep Silver
Developer: Eutechnyx
Rating: 'E' - Everyone SIX and OLDER ONLY

Want more info on this product, the company that made this product?
Set web browser to:
Link

Got a question, comment, or a concern regarding this review?
Email them to:
GameReviews@familyfriendlygaming.com