My Zoo Vet Practice 3D
SCORE: 78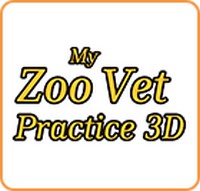 I have played enough Treva Entertainment pet games to have a good feel of what to do. First off I had to purchase a book on the environment, and then a book on the animal I would be treating. Some people may get stuck early on not figuring that out. Once you have that concept My Zoo Vet Practice 3D flows freely on the Nintendo 3DS. My Zoo Vet Practice 3D is a downloadable only video game.
Family Friendly Gaming was provided a download code for My Zoo Vet Practice 3D for this review. All of the costs of the review are on us. As are the costs of Internet downloads, storage space, and device. With that FCC required content out of the way we can get back to the review. My Zoo Vet Practice 3D looks okay graphically. There was more attention paid to the animals than the humans.
The controls gave me fits when I first started to play My Zoo Vet Practice 3D. I had trouble figuring out I tapped which direction I wanted my character to walk toward. I kept trying to use the D-pad, and the circle pad to move my animal helping person. It was frustrating at first. Once I learned how to move on the different screens things flowed much better in My Zoo Vet Practice 3D.
There are numerous animals to take care of in My Zoo Vet Practice 3D. There are a limit to the diseases or health issues they have. In fact at times I got the same issues with animals back to back. I started to wonder if the chimps had any teeth left. My Zoo Vet Practice 3D is an easy game to play. Tap the tool, then the area of the animal, and once you have enough information you can go into treatment.
Treatment in My Zoo Vet Practice 3D is very easy if you can read. My Zoo Vet Practice 3D tells players exactly what to do in the treatment. Follow the instructions and you get some money. My Zoo Vet Practice 3D tells you when you are out of some medicine too. The only issue I found in My Zoo Vet Practice 3D that families may be offended by is some light evolution references.
- Yolanda
Graphics: 70%
Sound: 85%
Replay/Extras: 70%
Gameplay: 85%
Family Friendly Factor: 80%

System: Nintendo 3DS
Publisher: Treva Entertainment
Developer: Raylight Studios
Rating: 'E' - Everyone SIX and OLDER ONLY
Company provided product
Value/Cost of the review is greater than value/cost of provided product

Want more info on this product, or the company that made this product?
Set web browser to:
Link
Got a question, comment, or a concern regarding this review?
Email them to:
craftiemom@familyfriendlygaming.com