Mario Party 10
SCORE: 68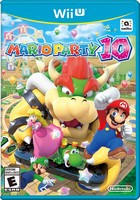 I hope you read my hubby's column on God Provides, because this game directly ties into it. We rented it through Gamefly, and boy are we glad we did. Mario Party 10 is a huge disappointment. I even played this game for the video capture up on our website and on the Youtube channel. We are all stuck in the same vehicle so it feels all wrong. I know Nintendo made that bone head move in Mario Party 9. Guess they are not listening to how families don't like it.
Mario Party 10 feels limited and small compared to previous Mario Party video games. There is Amiibo Party, Bowser Party, and Mario Party. If you use an amiibo in Mario Party 10 please note you will lose your save on the amiibo for other games like Super Smash Bros. Bowser Party lets you play the bad guy. He can also use the Wii U Gamepad whereas you can not in Mario Party.
If I had to pay for Mario Party 10, I would put the price at twenty dollars. No higher. The special dice are the only items you will earn in Mario Party 10. Mario Party is all about stars, and Bowser Party is all about hearts. I really am not into playing evil characters. My kids would not let me wipe out their existing amiibo saves. I did not feel like giving Nintendo even more money by purchasing an additional amiibo. They should let families play without ruining their save data.
The sounds in Mario Party 10 are nice. You will probably recognize them from other Nintendo games. The same thing goes for the graphics. I wonder how much development costs there were when Nintendo re-uses so much of the content. There are not many boards in Mario Party 10 either. Wait for Mario Party 10 to come down in price. If you miss it, then you won't miss much.
- Yolanda
Graphics: 80%
Sound: 80%
Replay/Extras: 50%
Gameplay: 55%
Family Friendly Factor: 75%

System: Wii U
Publisher: Nintendo
Developer: ND Cube, Nintendo
Rating: 'E' - Everyone SIX and OLDER ONLY
{Mild Cartoon Violence}

Want more info on this product, the company that made this product?
Set web browser to:
Link

Got a question, comment, or a concern regarding this review?
Email them to:
craftiemom@familyfriendlygaming.com