MLB 15 The Show
SCORE: 79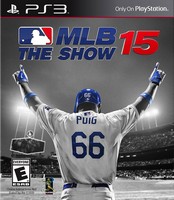 For the last ten years straight Family Friendly Gaming was provided a reviewable copy of MLB 15 The Show on the home console and hand held. This year nothing. In fact no responses to fifty-three emails that were sent to Sony. Not only that but Sony did little to push MLB 15 The Show. Normally there are multiple press releases, images, and videos. This year one video, a couple of images, and no press releases.
The lack of competition on the market hurt MLB 15 The Show. This game is having a definite off year. I wonder if they think they do not need to try as hard since they are the only game in town. Families are offered the five or ten gig installation again. Man that is huge. Long loading times await you no matter which you pick. As well as some obnoxious music. The music can be turned off in the options.
The league team select screen is confusing. As well as the different control schemes. The graphics look okay, little improvement this year. There feels like less content in MLB 15 The Show. It is like the game has been scaled back. The response of the players is laggy, and confusing. A fielder will start to move toward where the ball is going to land and then they pull up short. The player must take over the controls at exactly the right time or no catch.
If you could get a physical copy of MLB 15 The Show for ten to fifteen dollars it would be a decent deal. Prices right now are over inflated. The announcers sounded good at first, but really miss the boat sometimes with messed up comments. I noticed visual glitches in the stands, and the game will stop you from advancing runners at times. It may have been close but I was willing to risk it. MLB 15 The Show did not let me.
Some of the shading effects in MLB 15 The Show were glitchy too. MLB 15 The Show is either way too easy, or way too hard. I found no in between. There was nothing in the middle. Purchase MLB 14 The Show instead. The price and entire game will be better. Wait for MLB 15 The Show to reach the bargain bins. MLB 15 The Show is not much fun, and I love baseball games.
- Frank
Graphics: 80%
Sound: 77%
Replay/Extras: 85%
Gameplay: 75%
Family Friendly Factor: 80%

System: PS4/PS3(tested)
Publisher: Sony
Developer: Sony San Diego Studio
Rating: 'E' for Everyone SIX and OLDER ONLY

Want more info on this product, the company that made this product?
Set web browser to:
Link

Got a question, comment, or a concern regarding this review?
Email them to:
GameReviews@familyfriendlygaming.com