Lego Jurassic World
SCORE: 62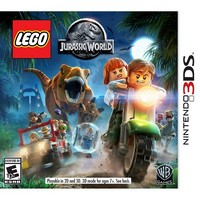 Sometimes what looks good on paper does not turn out so good in the final product. Take Lego Jurassic World for example. This sounded like an awesome idea on paper. However the game feels like so many Lego games before it. Same animations, skin swapping, short, and hollow experience with forced replay. Ultimately Lego Jurassic World on the PS Vita and Nintendo 3DS is a big disappointment.
My first problem with Lego Jurassic World is the tiny graphics, and short levels. This is getting old in hand held Lego video games. Then we have the promotion of the religious belief of evolution in Lego Jurassic World. There is also the belief in Old Earth promoted and taught in Lego Jurassic World. The horror nature of this franchise means characters are consistently in fear.
Playing as dinosaurs sounds cool on paper, however actually doing it in Lego Jurassic World is lame beyond belief. If that were not problematic enough we can also create our own dinosaurs in Lego Jurassic World. Nothing like playing God in a video game based on a franchise that tried to play God and failed. Why? We are humans. We are not God. We should know our role and worship God instead of arrogantly trying to be Him.
Another annoyance in Lego Jurassic World is not being able to skip the cut scenes. The volume has to be turned all the way up to hear the voices, and then get drowned out when the music comes on in the level. I found graphical glitches, and other bugs in Lego Jurassic World. There are long loading times and it is a really short game. I am also getting tired of not being able to 100% complete a level the first time I play it. This forced replay is getting old.
It can be difficult to figure out where the next level is in Lego Jurassic World. I would place the proper value of this game at fifteen dollars. If you can find this game at that price then you won't waste as much money as we did.
- Paul
Graphics: 60%
Sound: 65%
Replay/Extras: 75%
Gameplay: 55%
Family Friendly Factor: 55%

System: PS Vita/Nintendo 3DS(tested)
Publisher: WB Games
Developer: TT Games
Rating: 'E10+' - Everyone TEN and OLDER ONLY
{Cartoon Violence, Crude Humor}

Want more info on this product, the company that made this product?
Set web browser to:
Link

Got a question, comment, or a concern regarding this review?
Email them to:
pbury@familyfriendlygaming.com